Student Senate
Who We Are
The Student Senate is the governing body for students in the School of Public Health. The Student Senate provides a voice for students and allows students to get involved in student government, plan social activities, network with departments, work with faculty, demonstrate leadership skills, and develop creative solutions to new challenges.
Our Mission
The mission of the School of Public Health Student Senate at the University of Minnesota is to serve as a liaison between the students, faculty, and staff and to assist student organizations in hosting school-wide events.
Meet the Executive Board
President: Sarah Moon

MPH, Public Health Administration and Policy (PHAP)

Vice President: Tolu Odebunmi

MPH, Maternal and Child Health (MCH)

Director of Finance: Mosun Oyenuga
Director of Communication: Sam Alch

MPH, Public Health Administration and Policy (PHAP)

Secretary: Haley Miller

MPH, Community Health Promotion (CHP)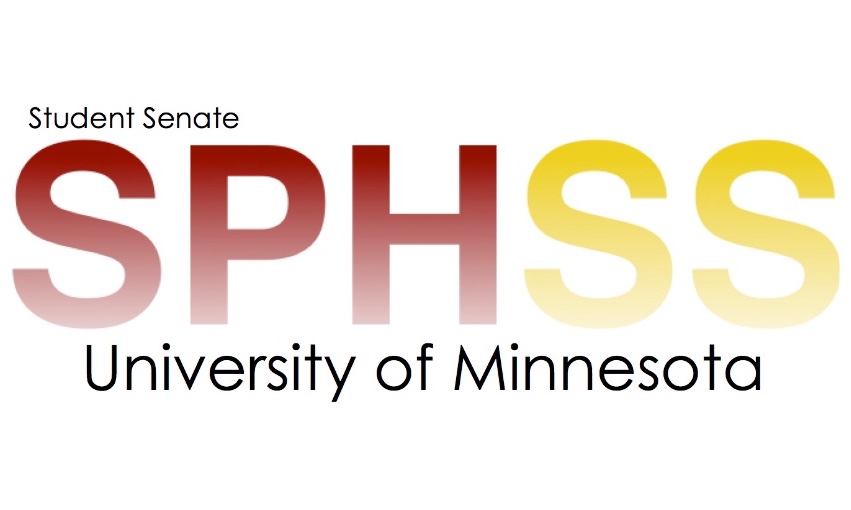 How to Get Involved
Meetings: Our general meetings are held on the first Wednesday of the month from 5:45pm – 6:45pm starting Oct. 4, 2017 in Mayo C231. All SPH Students are welcome to attend meetings.
Events: SPH Student Senate welcomes all student input on future events. If you have an idea for an event you would like to see happen, please contact SPHSS via email or attend a general meeting.
Info and deadlines for SPH Student Senate grants.
View minutes from our previous meetings.
We'd Love to Hear From You!
We have created the SPHSS Gophers Tip Line to welcome any and all creative ideas, comments, and constructive feedback you may have on how we can create a better learning environment for all students at the School of Public Health. Please find the SPHSS Gophers Tip Line form here.
Buddy Program
The SPH Buddy Program seeks to utilize or create opportunities for traditional, peer, and cross-mentoring. Much like learning a new language, cross-mentored pairs, act as conversation partners and share knowledge equally, but in different language (experience vs. new information). Check back for details soon.