Brand Platform
The School of Public Health's unique brand is built on a platform that combines our history, strengths, distinct advantages, authentic personality, and values. Our brand platform is essential to understanding who we are, what we stand for, and how we want to position the School into the future.
The brand platform elements below—Brand Positioning, Core Values, and Personality—set the foundation for all School of Public Health communications.
Our Brand Positioning
To distinguish us from other schools of public health, we need to communicate our strengths and what makes us unique. What sets our school apart?
Collaboration
Our work emphasizes a multidisciplinary, multidimensional approach to public health. A long and close partnership with the state health department—one of the best in the country—gives our students on-the-ground experience and allows our faculty to work with colleagues in the field. When it comes to working with communities, we have long embraced the notion of "engagement" rather than "outreach," knowing that we have as much to learn from them as they have from us and that real strength comes from true partnerships.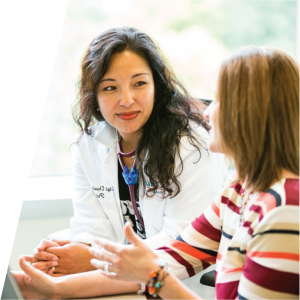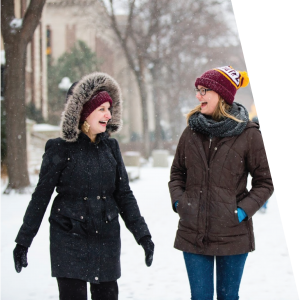 Location
Minnesota's diverse climate, ecosystems, and large immigrant and indigenous populations provide a rich and meaningful environment for public health learning and practice. Our heritage of hard work and resourcefulness continues to fuel creativity and a problem-solving mentality. As the birthplace of HMOs and home to many of the nation's top healthcare organizations and medical device innovators, there is a natural, underlying current of health awareness and action across the state. The state of Minnesota strives to put health at the forefront of all decisions.
The University of Minnesota and its Integrated Health Sciences
The University of Minnesota is the third largest and most comprehensive public land-grant university located in a major metropolitan area. Its innovative infrastructure of six health sciences schools—one of only a handful of such models in the country—gives our students, faculty, and staff the ability to learn from and work with a diverse array of topic experts to improve the health of populations.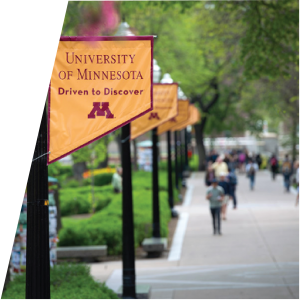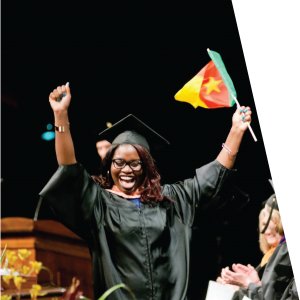 Culture
Underlying everything is our culture of inclusivity and support. There's a strong sense that we're all in this together. It's inherent in how we praise and recognize colleagues for their success and contributions; in the outstanding student services we provide—like our award-winning mentor program, the largest public health mentor program of its kind—and in the way our researchers partner with local and national health organizations. We take pride in our open, welcoming environment grounded in respect.
Our Core Values
We are bound together by common principles and values that drive us all. We feel them in our bones, and know them in our hearts.
1. Health as a Human Right
Our commitment to social change is at the heart of what we do. We believe that everyone has the right to live a healthy life. We challenge the assumptions that negative health outcomes are inevitable and we stand in solidarity with the most vulnerable and disenfranchised populations. No profession has more impact on improving lives on a grand scale than public health.
2. Upstream Action Saves Lives
We know that prevention is the most powerful, proven, and effective way to tackle the world's health challenges. Medical cures and interventions are essential, but prevention can stop suffering before it starts. We focus on moving research into action to protect populations, influence policies, and create a healthier world.
3. Different Perspectives Make Us Stronger

We believe diversity in backgrounds, culture, and experience is the source of deep and comprehensive understanding and knowledge. By its nature, public health is broad and wide reaching. Working in partnership with our colleagues, communities, and experts in other fields produces trust, cultural awareness, and a better result…every time.
4. Our Future Depends On Education

We commit ourselves to developing the next generation of public health leaders by preparing students to be effective researchers, teachers, practitioners, citizens, and health advocates. Our students learn from giants in the field, the people who continue to shape the way public health is practiced around the globe. And we place high priority on sending students off with the same energy and enthusiasm they had when they came to us.
5. Bigger Imaginations Yield Better Results
We set things in motion through our passion, excitement, and drive to make the world a better place. The freedom to dig deeper and follow our intuition toward greater understanding gives us the space to see things with new eyes and to explore creative solutions.
Our Brand Personality
Our personality is the unique blend of traits that people associate with the School of Public Health. These traits capture the spirit of the School, help distinguish us from our peers, and establish the tone and style for our communications and marketing efforts. See how brand personality is implemented in voice and tone.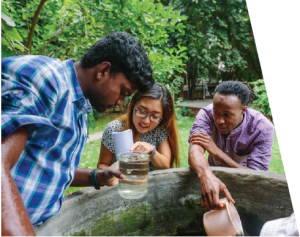 Progressive
Determined
Genuine
Rigorous
Collaborative
Creative