Master of Healthcare Administration (MHA) student Malia Lambrecht has earned a 2022 David A. Winston Health Policy Scholarship from the David A. Winston Fellowship. The Winston Scholarship program recognizes excellence and achievement for students in master's degree programs in health administration, health policy, and public health by providing up to twenty $10,000 scholarships per year. Winston Scholars also attend a one-day symposium on health policy in Washington, DC.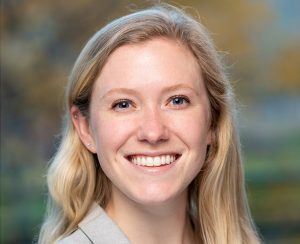 "It is an honor to earn this scholarship and I am thankful to those who have supported me along the way," said Lambrecht. "I came into the MHA program with a desire to help people and this scholarship will help me achieve this goal."
Lambrecht is a first-year MHA student advised by Associate Professor Helen Parsons. Professor Jean Abraham and Associate Professor Sayeh Nikpay guided Lambrecht in applying for the scholarship.
"I hope to use policy as an avenue to positively impact the approachability and affordability of healthcare in the U.S.," said Lambrecht. "My family has been immersed in healthcare delivery for the last two years and I have witnessed many opportunities to improve the patient experience. Focusing on healthcare policy provides me with an opportunity to create substantive change in how patients and providers interact with the healthcare system. "
Lambrecht's focus on patient experience stems from her undergraduate education in hospitality management.
"A background in hospitality is uncommon in the healthcare industry and MHA program. When entering the program, I was concerned my background would not set me up for success," said Lambrecht. "My hospitality degree offers a unique lens with which to view patient experience and has taught me how to communicate with and listen to guests to better understand their needs. This is a valuable way of thinking to improve the care experience and other problems that exist in healthcare."
Lambrecht says her first year in the MHA program has transformed her thinking by expanding her understanding of the healthcare system and its stakeholders, and leading her to consider how she could use her hospitality-based perspective to improve state or federal healthcare policy.