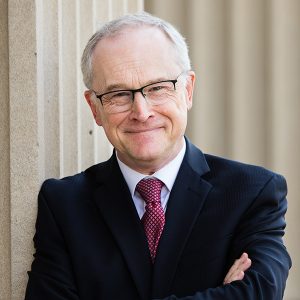 Dear SPH faculty, staff, and students:
I write to let you know that after 16 years of my service as dean, I will be retiring as dean and professor, expected in fall 2021, following a search for and installation of the eighth dean of this great School of Public Health (SPH).
The timing for such transitions is rarely perfect. When I discussed my plans with Provost Rachel Croson last fall, I had thought this announcement would happen earlier, but COVID-19 intervened and this fell to the bottom of our "to do" list.
My connection with SPH began 40 years ago when Henry Blackburn hired me as a project assistant for the Minnesota Heart Health Program. Five years later I joined the faculty specializing in health communication and community campaigns, guided by Russell Luepker. It was an exciting yet daunting plunge into the wonderland of public health science, education, and community partnerships. The capacity of the school to build interdisciplinary teams of committed people grappling with the public health challenges of our age has always been its great strength. This collaborative spirit is simply amazing, and I hope you recognize what a privilege it is for all of us to be connected with it.
As I reflect on my time as dean, I am proud of what we accomplished together. We increased our student body by more than 130 percent since 2004, ensuring a stronger public health workforce in Minnesota and beyond. In 2005, we welcomed the MHA program back to the school, where it flourishes today as the No. 2 ranked program in the U.S. Our education programs and curricula have adapted to changes in public health science and practice. We expanded our dual degree programs. We also became an early adopter of online learning through critical investments in our E-Learning Services infrastructure — investments that have served us well over the years and especially today as we rely almost exclusively on online learning to fulfill our education mission.
We have grown our faculty ranks. In early 2004, we had about 90 regular faculty; today, it is approximately 125. We have increased the diversity of our school. More than half of our faculty today are women, and 21 percent are non-white compared to 9 percent in 2004. Our incoming student cohort this year is 31 percent Black, Indigenous, and students of color. And, we have had extraordinary success through our Driven: Shaping a Future of Health campaign, to date reaching an unprecedented $32 million in philanthropic giving to the school.
These achievements are ours together. We know this success rises from the action, know-how, and strength of our entire school community and those who have come before us.
This year, I turned 70. I asked myself where has the time gone? The answer: It has passed quickly, productively and joyfully, as it turns out, and of course, there is much more to be done. But that's the story of public health and the contributions our school continues to make. We're on a perennial journey, seeking and establishing mileposts along the way that mark a better world for everyone everywhere in health, well-being, and the opportunity to thrive. That's our purpose.
Now is a time of great transition for SPH, and the school's capacity to work together will be especially important moving into 2021 and the years beyond. Not since the school's founding 76 years ago has such serious thought and planning been needed to drive our future. Then, the need was about repairing a broken world following a horrific world war. Now, it's about confronting deeply injurious global public health challenges: environmental degradation and climate change; a pandemic not seen in a century; growing chronic disease; the public health emergency of structural racism — and the fallout that cascades from each.
While our missions remain clear, how do we support, adapt, and sustain them financially with such uncertainty surrounding us? Charting the path forward for our school is our challenge, and we will not slow down or pause our efforts during my transition. Over the next year, we will move forward with many important initiatives that are critical to our school's future: We will advance our internal commitments to diversity, equity, inclusiveness, and antiracism; we will conclude our current philanthropic campaign; we will submit our renewal for CEPH accreditation; and we will weather and confront, together, the enormity of COVID-19.
SPH has a tremendous opportunity in the face of current challenges, and we must be intentional and diligent in shaping the future we want for our school. One thing I know: With your perseverance, creativity, and forward thinking, the School of Public Health that we pass on to the next dean will continue to excel as one of the best schools of public health in the world.
Thank you, and let our journey continue!
Stay safe and healthy!
John Finnegan
Dean and Professor