CHAI & The Goodman Group Scholarship Program
The Goodman Group and the University of Minnesota Center for Healthy Aging and Innovation (CHAI) are working together to provide thoughtful programming to support older adults. Even before the COVID-19 pandemic began to emerge, we witnessed an alarming trend related to loneliness and isolation among our senior population. Social isolation and loneliness in older adults have long presented health risks to the senior population. Cognitive decline, depression, heart disease, obesity, weakened immune systems, and anxiety, all present as side effects related to this dilemma. Individuals who engage in meaningful, productive activities with others tend to live longer, boost their mood, and have a sense of purpose. These activities seem to help maintain their well-being and improve their cognitive function.
The Goodman Group, a privately held company, manages senior living and health care communities, residential communities and commercial properties that provide homes and services for more than 10,800 residents and employment for over 4,000 individuals. Together, the Goodman Group Organization strives to carry on Sidney and John Goodman's legacies of leadership, growth, kindness, entrepreneurship, and innovation.

2020-2021 Scholarship Recipients
Senior Loneliness: Radio Programming
Madeline Turbes, MPH Candidate
An Internet Radio Station Broadcast hosted by Independent Living Senior Volunteers with the goal of allowing connection and shared sense of nostalgia for senior residents as well as a sense of purpose for volunteers.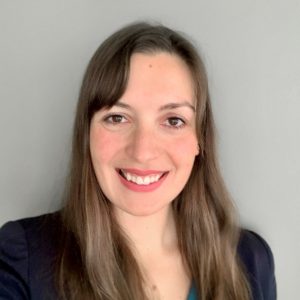 Madeline Turbes, Master of Public Health Candidate
"I was excited about the opportunity to get hands on experience developing an idea and program to help solve an issue I care deeply about. I came to the School of Public Health with the aim to work on senior mental health and was able to get involved in that work right away. I enjoyed being able to integrate theory, research, problem solving and creativity all in one project with the potential to make an impact for older adults experiencing loneliness. Pitching the idea to a board was a great experience that I felt was unique to have as a graduate student. I am thrilled that the Goodman Group is moving forward with my idea and am grateful for the opportunity to build a relationship with this organization."
The Connection Garden – Green Space for Growing Relationships and Health
Odichinma Akosionu, MPH, Ph.D. Candidate, Manami Bhattacharya, MS, Ph.D. Candidate, Cydney McGuire, MPH, Ph.D. Candidate
A community-engaged gardening program to foster connections, healthy behaviors, and opportunities to be involved in the planning and execution of the project for residents, staff, and guests.
Connection – Mobile App
Alexandria Kristensen-Cabrera, M.D.-Ph.D. Candidate
Development of an application that leverages existing social media platforms and content to format and customize an experience for elderly consumption.
In-house Podcast
Michelle Berning, M.D Candidate
In in-house "podcast show" featuring stories, interviews, and favorite music from senior living residents to promote community, purpose, and inclusivity.
Creating Communities
Karen Chen, MPH Candidate
An intergenerational program involving senior living residents, college, and high school students that would focus on engagement and creativity to develop groups and projects based on interest.
"The Buddy Program"
Victoria Anderson, MPH Candidate
A virtual visit program designed to match and engage aging adults confined to long-term or home-bound care with volunteer companionship.