Career
What Do Graduates Do?
Address complex problems that relate to the health of animals and people
Operate as field epidemiologists investigating new and emerging diseases
Serve as leaders for zoonoses prevention and control programs such as rabies, food borne illnesses, and arboviruses
Prepare and respond to bioterrorism and other public health emergencies
Work to ensure the health of humans and animals by promoting safe natural and working environments
Develop public policy at local, state, national, and international levels
DVM/MPH practice areas
Risk communication
Food safety
Zoonoses control
Public health leadership/policy
Disaster preparedness
Occupational health
Teaching and research
Epidemiology
Environmental health
Where do they work?
Private industry: Pharmaceutical and vaccine companies, food processors, medical device companies
Government agencies: Departments of Agriculture; Departments of Natural Resources, Departments of Public Health, Center for Epidemiology and Animal Health, Centers for Disease Control and Prevention
International organizations: Food and Agriculture Organization of the United Nations, World Health Organization, World Animal Health Organization
Uniformed services: Army Veterinary Corps, Air Force Health Officer, Public Health Corps
International public health agencies: Veterinarians without Borders, Heifer Project International, Pan American Health Organization
Veterinary Public Health DVM/MPH In-Depth Career Information
Current Student Profile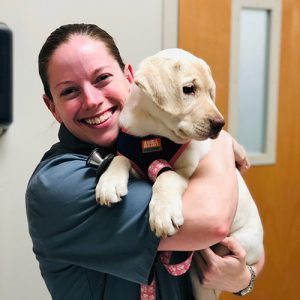 Jessica Gilliatt, DVM 2016
As I began to take classes at University of Minnesota, I was worried that I would not be able to utilize the degree I was working so hard to earn. I quickly realized with every class and with every day I worked I could find a way to utilize and spread the knowledge I was gaining.
I have now become the veterinarian for our transient outreach team – myself, my director, a police officer in the downtown resource department and my assistant will be going to transient encampments throughout town to open the communication with these individuals and try to break barriers to care for their pets and ensure the pet's health and safety to promote them to stay with transient owners. With the help of the ASPCA's statement on the importance of keeping pets with their transient owners, we feel it is our duty to our county to help this population. In the future, we hope to perform exams and simple treatments/rabies vaccinations/deworming in the field. I definitely pulled from my education and utilized knowledge gained in multiple classes on my journey to get my MPH!
I want everyone working toward their DVM/MPH to know that the opportunities within the field are endless and there are so many ways in which this degree can and needs to be used.
Discover how our faculty, career coaches, mentorship program, and deep connections with community and national health organizations directly support your success.