Commencement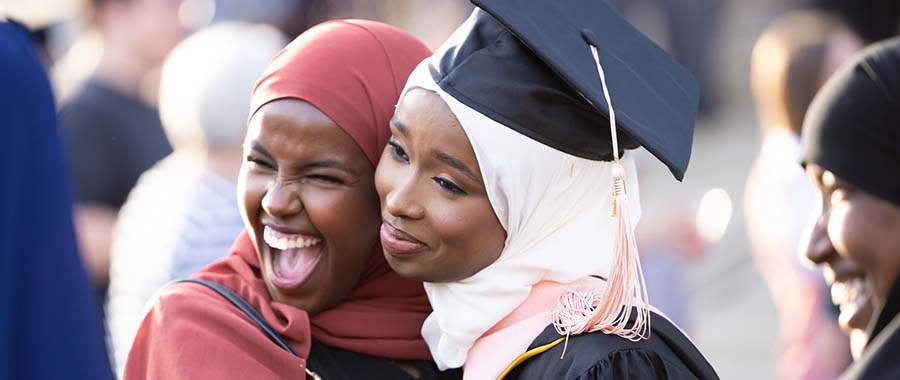 School of Public Health Commencement
The School of Public Health hosted our in-person ceremony for Spring 2023 Commencement on May 15. The video playback, photos, and program booklet are now available. Stay tuned to this website for additional details regarding the 2024 ceremony.
Click the links below to learn more about graduation requirements.
Save-the-Date for 2024 Commencement!
Monday, May 13, 2024
Northrop Auditorium
Frequently Asked Questions
What is the difference between graduation and commencement?
Graduation is the completion of all degree requirements as recorded on your official transcript from the University. Commencement is the ceremony that celebrates this accomplishment. Commencement is not required for graduation and participating in the event does not imply that you have officially graduated.
Learn more about graduation requirements.
How do I order my cap and gown?
Commencement regalia for master's or doctoral students can be purchased through the University of Minnesota Bookstores either in-person or online.
Hood and tassel colors:
MPH and MHA students should order a salmon (pink) hood.
MS students should order a yellow hood.
PhD students should order a dark blue hood.
MS, MHA, and PhD students should order a black tassel.
MPH students should order a salmon (pink) tassel.
Stoles are optional additions to graduation regalia used to symbolize achievement, school pride, membership, greek affiliations, clubs,  military service, and more.
Cords:
Cords are optional additions to graduation regalia typically awarded to members of honor societies or for various academic and non-academic achievements.
Do I need to purchase tickets for my family to attend the commencement ceremony?
No. This event is free and open to the public. Guest seating is available on a first-come, first-serve basis.
If my family cannot attend the ceremony, can they watch it online afterwards?
Yes, the ceremony will be livestreamed online and recorded.
The recording will be posted to the SPH Commencement webpage shortly after the event takes place.
How do I nominate the student speaker?
How do I join the student speaker selection committee?
Will there be additional receptions for graduates in my academic program?
SPH programs have the options for hosting their own receptions. Information will be made available as those plans are confirmed.