Commencement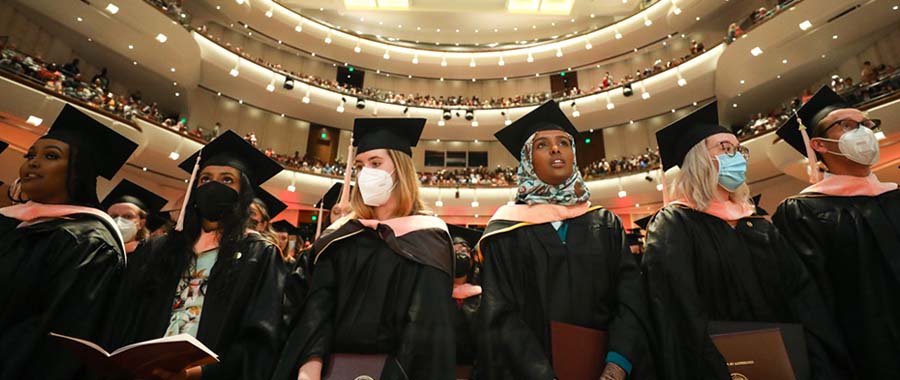 2023 School of Public Health Commencement
The School of Public Health will be hosting an in-person ceremony for Spring 2023 Commencement. The ceremony will also be livestreamed to allow SPH families, friends, and guests from across the country and world to join in celebrating our graduates! Click the links below to learn more about graduation requirements and how to register for the event.
Save-the-Date for 2023 Commencement!
Monday, May 15, 2023
Northrop Auditorium
5:00 p.m. CDT
Dr. Brooke Cunningham
Commissioner of the Minnesota Department of Health
Brooke Cunningham was appointed assistant commissioner for the Health Equity Bureau in 2022 by Commissioner Jan Malcolm. As assistant commissioner, Cunningham is responsible for overseeing the Center for Health Equity, the Office of American Indian Health, the COVID-19 Health Equity Team, and Diversity, Equity, and Inclusion. She also works closely with leaders and staff in MDH's other bureaus to advance health equity in their work.
Read more
Professional Background
Dr. Cunningham is a general internist, sociologist, and assistant professor in the Department of Family Medicine and Community Health at the University of Minnesota. Prior to joining MDH, her research focused on developing strategies to reduce racial disparities in health, including addressing the adverse impacts of exposure to racism. She also co-directed the University of Minnesota Medical School's Diversity, Equity, and Inclusion Thread in medical education. In 2021, she was selected as one of four inaugural recipients of the University of Minnesota's Justice, Equity, Diversity, and Inclusion (JEDI) Award. Cunningham is a primary care provider at the Community-University Health Care Clinic (CUHCC), a federally qualified health clinic in Minneapolis that serves a diverse patient population.
Educational Background
Cunningham received her doctorates in medicine and sociology from the University of Pennsylvania. After completing residency in internal medicine at Duke University, she completed fellowships in health services research, health policy, and bioethics at Johns Hopkins University and an AcademyHealth Delivery System Science Fellowship at the Medica Research Institute. She received her bachelor's degree in history and African American studies from the University of Virginia.
Frequently Asked Questions
What is the difference between graduation and commencement?
Graduation is the completion of all degree requirements as recorded on your official transcript from the University. Commencement is the ceremony that celebrates this accomplishment. Commencement is not required for graduation and participating in the event does not imply that you have officially graduated.
Learn more about graduation requirements.
How do I order my cap and gown?
Commencement regalia for master's or doctoral students can be purchased through the University of Minnesota Bookstores either in-person or online. Get discounts on your regalia now through GradFest 2023 on March 22 – 23.
Hood and tassel colors:
MPH and MHA students should order a salmon (pink) hood.
MS students should order a yellow hood.
PhD students should order a dark blue hood.
MS, MHA, and PhD students should order a black tassel.
MPH students should order a salmon (pink) tassel.
Stoles are optional additions to graduation regalia used to symbolize achievement, school pride, membership, greek affiliations, clubs,  military service, and more.
Cords:
Cords are optional additions to graduation regalia typically awarded to members of honor societies or for various academic and non-academic achievements.
Do I need to purchase tickets for my family to attend the commencement ceremony?
No. This event is free and open to the public. Guest seating is available on a first-come, first-serve basis.
If my family cannot attend the ceremony, can they watch it online afterwards?
Yes, the ceremony will be livestreamed online and recorded. The link will be posted to the SPH Commencement webpage shortly after the event takes place.
What is the University Graduate Student Conferral Ceremony?
U of M is hosting a University Graduate Student Conferral Ceremony on Friday, May 12, 2023 at 5:00 p.m. at Huntington Bank Stadium. This is separate from SPH's Commencement. At this conferral ceremony, graduates will participate in the processional into the stadium to their seats on the floor, remarks will be made by University officials, a student speaker, keynote speaker, and others.
The School of Public Health is not formally participating in the University Ceremony, but if you would like to participate in both, you may do so by contacting commencement@umn.edu.
How do I nominate the student speaker?
How do I join the student speaker selection committee?
To join the committee, please complete the SPH Commencement Student Speaker Selection Committee Form.
Only graduating students who do not want to be nominated for the speaking role are eligible to apply to this committee. Reviewing and scoring nomination applications will happen the week of March 20th.
Will there be additional receptions for graduates in my academic program?
SPH programs have the options for hosting their own receptions. Information will be made available as those plans are confirmed.