Commencement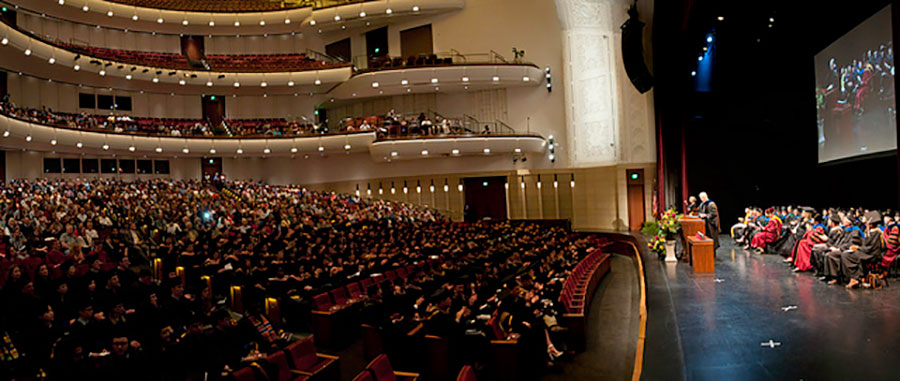 2020 School of Public Health Commencement
We will honor the class of 2020 this spring through a virtual commencement experience that includes two components: a systemwide UMN celebration and a SPH celebration.
Saturday, May 16, 2020
11 a.m. CDT (both event websites will be accessible on May 16, beginning at 11 a.m.)
Can't join the celebrations on May 16? That's OK! You will be able to access them afterward until June 30, 2020.
The School of Public Health (SPH) Office of Alumni Relations and SPH Alumni Society welcomes new graduates to a lifelong network of committed public health advocates and champions. Graduates, since we don't know when we'll be able to see you to offer our in-person congratulations, we would like to give you each a University of Minnesota maroon and gold reusable face mask. This gift is a small token of our collective pride in your accomplishment; we hope you will wear it proudly in the coming days or save it to remember these extraordinary times in which you achieved your public health graduate education.
All graduating students must review and complete the below checklist below.
2020 Commencement Checklist
Career Survey
Complete and submit the online SPH Career Outcomes Survey before your planned graduation date as a requirement for degree clearance.
Application for Degree Form
If you have not done so already, you must complete an application for degree via MyU to be considered as a candidate for graduate degree or certificate. This form also verifies your permanent home address to ensure receipt of your diploma.
Order your Cap & Gown
(NOTE: the UMN Bookstore is still fulfilling cap and gown orders for the virtual commencement)
Commencement regalia for master or doctorate students can be rented or purchased through the University of Minnesota Bookstore either in-person or online.
Additional Reminders
Hood & tassel colors:
MPH & MHA students should receive a salmon hood.
MS students should receive a yellow hood.
PhD students should receive a bright blue hood.
MS, MHA, & PhD students should receive a black tassel.
MPH students should receive a salmon (pink) tassel.
Your SPH Alumni Community
Stay connected after you graduate. All graduates receive a FREE membership in the SPH Alumni Society following graduation.
Masters level students
Students enrolled in MPH, MHA or MS programs are eligible to participate in the May 2020 Commencement ceremony if on-track to complete course credit requirements by August 31, 2020, or have completed the necessary course credit requirements the previous Summer '19 or Fall '19 semester.
Exceptions may be granted on an individual basis per review by the program coordinator and program director. To seek an exception, contact your program coordinator no later than April 1.
PhD students
Students enrolled in PhD programs are eligible to participate in the May 2020 Commencement ceremony if they have participated in an oral defense, or plan to participate in an oral defense, prior to August 31, 2020. Exceptions are granted on an individual basis per the student's faculty advisor and committee. To seek an exception, contact your program coordinator no later than April 1.
Certificate students
Students receiving a Public Health Certificate are invited to participate in the ceremony. If you are interested in participating, please contact the Office of Alumni Relations at sph-alum@umn.edu to discuss options no later than April 1.
Masters and PhD students will be listed in the Commencement program only if the degree has been completed and awarded prior to the ceremony or is on task to be awarded by August 31, 2020. Otherwise, names of those students will appear in the commencement program of the academic year in which the degree is formally granted.
For Graduating Students
Do I need to purchase tickets for my family to attend the ceremony?
No. This event is free and open to the public.
If my family can't attend the ceremony, can they watch it online?
The ceremony will be livestreamed online, and the link will be accessible online until June 30, 2020. You can share access to the livestream and the recording with whomever you want.
The Delta Omega Honorary Society in Public Health was founded in 1924 at Johns Hopkins University. There are now more than 70 chapters throughout the United States and abroad. The University of Minnesota's Pi Chapter was founded in 1985 and has more than 800 members.
Membership in Delta Omega reflects the dedication of an individual to increasing the quality of the field, as well as to the protection and advancement of the health of all people. Members are inducted to each chapter by a selective process that considers their outstanding performance and devotion to the field.
Students: Chapters may induct up to 10 percent of the graduating student body. All student inductees must be in the upper 25 percent in class standing and must have demonstrated real or potential qualities of leadership in public health.
Faculty: Chapters may induct 3 percent of the full-time faculty. Adjunct faculty may not be appointed as faculty members. Faculty will be selected based on outstanding public health performance in scholarship, teaching, research, and the quality of publications.
If you would like to nominate a student or faculty member please complete the form found here.