SPHere Lounge
The Student SPHere Lounge is available for only current SPH graduate students. The space allows students to have a place to study or a venue for group projects. The space also houses the SPH Student Senate office.
Location
The lounge is located in the Mayo Memorial Building, first floor, room A150.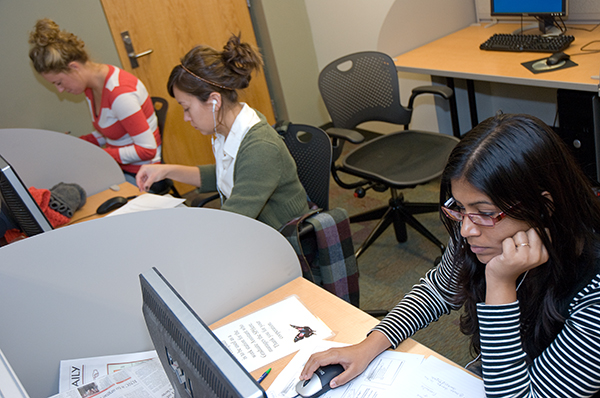 SPHere Features
A kitchen, complete with a sink, refrigerator, microwave, and dining tables where students can keep and eat their food during the day.
A computer lab with 14 PCs with the full Microsoft Office suite and a variety of statistical software.
Printers and scanners: Each student receives a $100 credit for B&W printouts per semester. The printer is connected to the lab computers; students can also install the printer driver on their laptops (see directions below). This printing credit is available for the SPHere Lounge Computer Lab only and does not have monetary value.
Note: Some features may be limited depending on the latest University COVID-19 guidelines. Contact sph-ask@umn.edu with questions regarding latest access to features.
Health Sciences' Care Corner
To address the struggle with food insecurity, the University of Minnesota Health Sciences' are collaborating on a network of "Care Corners" in various locations across the health sciences. These "Care Corners" will serve as "take what you need" food pantries. One of these Care Corners is available on the first floor of the Mayo Memorial Building near the A110 & D199 classrooms just outside the SPHere Lounge.
SPHere Locker Sign Up
Fall 2022 locker sign up is now available. If you would like a locker for the upcoming school year, please fill out the locker sign-up form as soon as possible. Lockers are provided free of charge to School of Public Health students. SPH Student Services will provide locker assignments. Please note that you must provide your own padlock for your locker. Email sph-ask@umn.edu with any questions.
Accessing the SPHere Lounge
To access the lounge, scan your student ID at the main entrance. If you encounter problems with the printer or other access issues, contact SPH Student Services at sph-ask@umn.edu.
Additional Study Spaces
Use the Study Space Finder to find group study rooms, coffee shops, and computer labs where you can study privately and safely. You can also reserve individual study rooms in the Libraries for one person per room (no group studying).
All health sciences students are able to use to the Health Sciences Interprofessional Student Lounge located on the seventh floor of the Health Sciences Education Center. Request access to this lounge by completing the appropriate form on their website. Questions regarding this space can be directed to chip@umn.edu.
Some classrooms in the Health Sciences Education Center (HESC) are available to just health sciences students who request access to these classrooms. Other general purpose classrooms are available as study spaces during unscheduled times. When on campus, you can see if a classroom is available by using the QR code on the classroom sign in the hallway.