SPHere Lounge
The Student SPHere Lounge is open to current SPH graduate students only. The space allows students to have a place to study or a venue for group projects. The lounge is open during the fall and spring semesters. The space also houses the SPH Student Senate office.
Location
The lounge is located in the Mayo Memorial Building, first floor, room A150.
Accessing the lounge
To access the lounge, scan your student ID at the main entrance. If you encounter problems with the printer or other access issues, contact the Student Services Center at 612-626-3500, or Andy Nguyen, SPH IT, at 612-626-1998.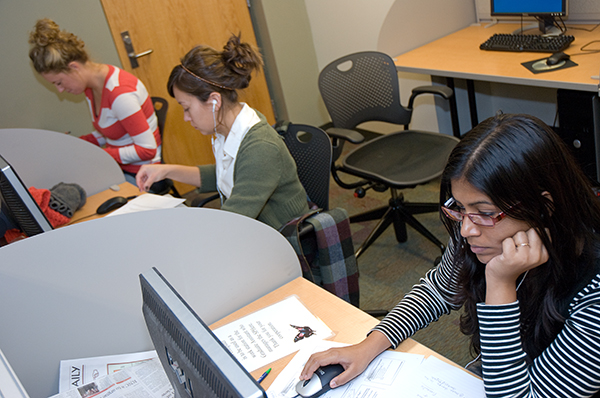 SPHere Features
A kitchen, complete with a sink, refrigerator, microwave, and dining tables where students can keep and eat their food during the day.
The Student Services Center will be in contact with all incoming students regarding locker use at the beginning of each academic term. Please contact sph-ask@umn.edu with any questions.
A computer lab with 14 PCs with the full Microsoft Office suite and a variety of statistical software.
Printers and scanners: Each student receives a $100 credit for B&W printouts per semester. The printer is connected to the lab computers; students can also install the printer driver on their laptops (see directions below).
SPHere Locker Sign Up
Using your UMN log in and password please complete the following form to reserve your SPHere Locker. Once you have submitted the form, the Office of Admissions and Student Resources will assign you a locker number which will be emailed to your U of MN email account.
Need SAS for your school work?
As an SPH student, you are entitled to a free copy of SAS software and license to install on your personal computer. In order to do so, you simply need to fill out this form when a drive is available you will receive a notification prompting you to come to the Student Services Center in Mayo A-395 to pick up your SAS jump drive so it can be installed on your laptop. Once you check out a SAS drive, you will have two business days to install the software and return the drive. If you cannot make it to campus, you can send an email to dotech@umn.edu to request to get access to the SAS folder on the network.
For Windows 7, 8.1 or 10 users, SAS DOES NOT run on Home version. Please download file for Windows users for more detail information.
For Mac users, sorry SAS doesn't run on Mac. However, there is a way. Please download file for Mac users for more detail information.
Installing the printer drive on PC laptops:
Download the Windows installer (it works for both Windows 32-bit and 64-bit systems).
Open and run the installer.
Once you see the line "install finished successfully," click Finish.
Go to the SPHere and print a test page.
Installing the printer driver on Mac laptops:
We currently support OSC Intel 10.6. If you are uncertain which operating system your Mac is running, go to the Apple icon in the upper left and click "About this Mac." Use the following links to download for:
Once you install the file, you will be asked to restart your computer.
Go to the SPHere and print a test page.