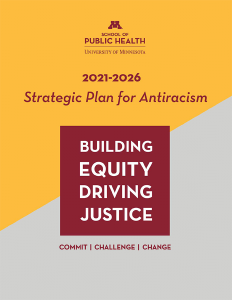 Celebrating Two Years of Progress
In 2021, we launched our Strategic Plan for Antiracism (SPAR). In the past two years, we've worked hard to create and advance inclusive and supportive work and learning environments; hiring processes; salary adjustments; community-building events; and new training opportunities, among many other efforts.
Sign up for our monthly email newsletter for insights on public health challenges in the global conversation.
Episode 6: Center for Public Health Systems
SPH Behind the Scenes
Our new video series, SPH Behind the Scenes, shines a spotlight on the people and places that make the U of M School of Public Health (SPH) such an amazing school. Join Interim Dean Tim Beebe as he tours some of the 30+ nationally and internationally recognized SPH centers.
Our Values
1.

Health is a human right

2.

Upstream action saves lives

3.

Different perspectives make us stronger

4.

Our future depends on education

5.

Bigger imaginations yield better results