History
Charles Hewitt, the secretary of the Minnesota State Board of Health, begins offering a class in sanitary science covering topics in personal and community hygiene, epidemic diseases, and physiology.
Various university departments create programs in public health disciplines such as biostatistics, environmental health and epidemiology.
Drs. William and Charles Mayo provide endowment to help establish School of Public Health and a Mayo Professorship in Public Health.
The Board of Regents passes a motion to create the School of Public Health. Gaylord Anderson named head of the new school, but is serving in the U.S. Army Medical Corps. Student Health Service director Ruth Boynton serves in his place.
The SPH is one of the first nine schools of public health to be accredited by the American Public Health Association.
Ancel Keys and colleagues launch the Minnesota Cardiovascular Study, the first longitudinal study of risk factors for heart attacks.
The school is the first in the country to grant a master's degree in hospital administration.
NIH calls for a national expansion of biostatistics programs and offers grants to each public health school to help them grow. By the 1960s, the SPH biostatistics program trained more graduates than any other public health school in the country.
SPH founds the nation's first graduate program in epidemiology.
Henry Taylor begins the U.S. Railway Study, the first nationwide study of occupational activity and heart attacks.
Ancel Keys and colleagues begin the Seven Countries Study, the first population comparison of diet, risk factors, and rates of heart attack and stroke.
Faculty member Ancel Keys appears on the cover of Time Magazine following his Seven Countries Study, which compared diet, risk factors, and rates of heart attack and stroke.
Public health nutrition program begins under the direction of Ruth Stief. Emphasis is on preparing students for leadership positions in the field.
Midwest Center for Occupational Health and Safety is established in cooperation with other institutions serving Minnesota, Iowa, Kansas, Missouri, and Nebraska.
The School's Division of Biostatistics begins its work as statistical center for the Community Programs for Clinical Research on AIDS (CPCRA), a national clinic-based effort to evaluate various means of combating AIDS.
John Finnegan becomes Dean of the School of Public Health.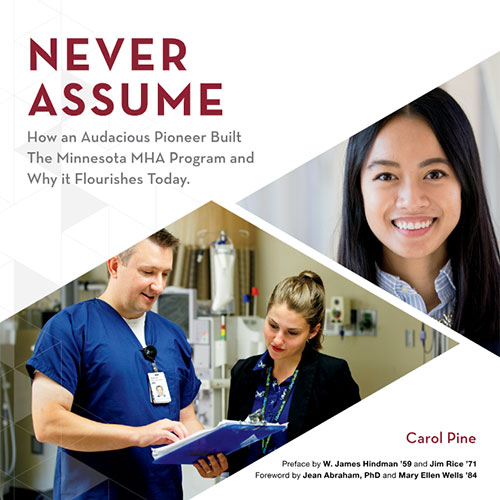 Never Assume
How an Audacious Pioneer Built the Minnesota MHA Program and Why it Flourishes Today