Commit
Using "commit" emphasizes a pledge to prioritize antiracist efforts in making SPH a more welcome, equitable, and just organization.
How are you committing on a daily basis (professionally and/or personally) to antiracism?
"I just try to be. I try to be honest, to be myself, and to be aware. I make sure that I treat people with respect because everyone deserves respect. And when you don't give people that respect, especially BIPOC folks, it leads to greater misunderstanding, greater judgment, and other negative results. So for me, it's more than just practicing what I preach—it's about embedding those values into who I am and how I move about the world."
How do you plan to stay engaged in the SPH plan for antiracism?
"My focus is to increase Native American student enrollment for the Public Health Administration and Policy MPH program at SPH, which supports the Strategic Plan for Antiracism. And I am motivated to bring new opportunities to Native students because I was that Native American student. Going through my undergrad was really hard, and I didn't have the support that I am seeing that is now available—especially within the School of Public Health. So I am committed to working with Native students, communicating to them what resources and benefits are available, and supporting them as they advance in their academic journey."
Challenge
We are "challenged" to accept that racism exists and to "challenge" it when we see it.
What are some ideas you have about how to stand up to racism?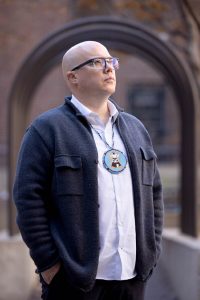 "One of the key ways of standing up to racism is to learn about racism. And to learn about racism means learning about this country: how it was founded, how it was developed, and how there has been a system that monetizes people, culture, and resources. I think that actively learning and pursuing avenues that help you understand racism is crucial in how we practice being antiracist."
How are you challenging the systems?
"Being in my seat now—being the one that is promoting support—really allows me to learn about the opportunities I missed out on and helps me ensure that Native students can maximize them. And I think that by showing prospective students support on a financial level and showing them a support service system while they're in college will definitely increase the chance of them to go to grad school because the opportunities here at the University are amazing."
Change
We have to be willing to "change" and shift our beliefs, attitudes, and actions toward equity and justice.
What is your vision for an antiracist school of public health?
"My vision for an antiracist school is one that provides abundant financial, academic, and cultural support to the point where all BIPOC students feel like they belong. These students need to know that we value them. We want our student life here to be diverse, to be expansive, to be multicultural, and to be future-focused. And to do that, we need to give incoming and current students the tools they need to feel both safe and energized."
What is the most important ingredient for culture change in our school and as a community?
"In the School of Public Health's pursuit of antiracism, we really need to deepen our understanding of our students. We need to better understand their various temperaments, talents, and convictions. Having an idea of where they come from and having coordinators that really build upon their relationships with students on a recruiting level, on an enrollment level, and while the students are in the program, would dramatically strengthen SPH's culture. It's something that we have to do over time, and to improve culture we need to start from the top to the bottom and from the bottom to the top."
Feather LaRoche, MTAG, is supported through the University of Minnesota School of Public Health's Center for Public Health Systems and by the TRIUMPH project, funded by the Office of the National Coordinator for Health Information Technology (ONC) of the U.S. Department of Health and Human Services (HHS) under 90PH0005/01-00, The PHIT Workforce Development Program, $8,214,905. The opinions expressed should not be construed as the official position or policy of, nor should any endorsements be inferred by ONC, HHS or the U.S. Government.
"Building Equity, Driving Justice: Commit | Challenge | Change" — ties all communications related to the SPH Strategic Plan for Antiracism together under one look and feel. The theme showcases our guiding principles, and it motivates and inspires. "Agents for Change" profiles support this theme and all interview questions are related to the action words, Commit, Challenge, Change, as described above.
Submit an idea for this profile series — either your own story, or one that inspires you from another SPH individual or group.