Career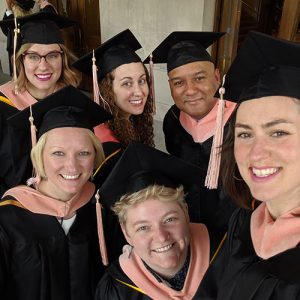 Many students will use their public health knowledge and skills to enhance effectiveness and opportunities in their current work or career path. This major emphasizes the importance and applications of basic scientific knowledge to current societal problems and concerns.
There are approximately over one hundred students enrolled in the Executive and Dual Degree Programs in Public Health Practice, all of whom have advanced graduate/professional degrees, or have successfully completed the Public Health Core Concept Certificate or are enrolled as a DDS, DNP, PharmD, MPP, MURP, Law student. The educational backgrounds of our students include the disciplines of education, law, medicine, nutrition, pharmacy, public health, psychology, dentistry, chiropractic and veterinary medicine.
The goal of some students is to become more effective in their current practice. Others students are looking to make major career shifts, e.g., moving from clinical practices to leadership roles in the Public Health community. Some students envision working in national and local health agencies/organizations and others envision working internationally. Others are enhancing their skills to work in regulatory agencies while some wish to redirect their clinical skills to the health needs of disadvantaged people.  Some students are looking to add a public health component to their current work.  The career goals of our students are truly diverse.
Whatever the career goal, students share a common value and that is to make a significant impact on the health of the public.
Job titles and Companies of some of our alumni:
Director of PubH at a Public Health Department
Assist. Dean of Students, Director of Wellness and Prevention at Grinnell College, IA
Senior Nurse Planner at Minneapolis Health Department
Director of Pharmacy at St. Croix Regional Medical Center
Project Manager in the Health Economics Program at Minneapolis Health Department
Health Coach at OptumHealth
Physician at Mayo Clinic, Rochester, MN
Assistant State Veterinarian for the State of Delaware
Public Health Flight Commander for the U.S. Air Force
Epidemiologist at CDC, Atlanta, GA
Aerospace Psychiatrist, Mayo Clinic, Rochester, MN