Curriculum
The Master of Public Health/Doctor of Veterinary Medicine (DVM/MPH) dual degree program combines the rigorous training of veterinary studies with a solid understanding of public health. The program is tailored to students who want to work at the interface of human wellness and animal health, spanning agriculture, food systems, emerging infectious diseases, ecosystem health, and global health implications.
Students customize the MPH degree by choosing electives that will enhance their career goals and interests.
Students enrolled Fall 2018 or later
The School of Public Health has revised its curriculum across programs and divisions to meet the new guidelines issued by the Council on Education for Public Health (CEPH). Students who enroll in Fall 2018 or later will meet the following revised curriculum:
DVM/MPH Curriculum Information (PDF)
Dual and Executive Programs in Public Health Practice Student Guidebook (PDF)
16 credits – The basic curriculum courses are offered online:
PubH 6020 Fundamentals of Social and Behavioral Science (2 cr)
PubH 6102 Issues in Environmental and Occupational Health (2 cr)
PubH 6250 Foundations of Public Health (2 cr)
PubH 6320 Fundamentals of Epidemiology (3 cr)
PubH 6741 Ethics in Public Health: Professional Practice & Policy (1 cr)
PubH 6751 Principles of Management in Health Services (2 cr)
Biostatistics, choose one option

PubH 6414 Biostatistical Literacy (3 cr) + a supplemental 1 cr statistical programming course
PubH 6450 Biostatistics I (4 cr)
26 credits –
As a student in the DVM/MPH program you can choose your graduate elective courses based on your career goals and interests in nursing and public health.
The majority of DVM/MPH students complete some elective courses at the Public Health Institute (PHI). PHI offers on-campus courses on a variety of current topics in a concentrated format. PHI provides course content that emphasizes research to practice with opportunity for field trips, case studies and simulations. It provides a perfect setting to network with other professionals and explore new areas of interest in public health.
Transfer Credits
Maximum 14, with approval –
The DVM/MPH has already established pre-approved transfer courses associated with many veterinary schools. Transfer requests are handled on a case-by-case basis in consultation with the program coordinator and faculty adviser.
Applied Practice Experience
2-6 credits
The Applied Practice Experience is a hands-on opportunity to implement your public health knowledge and skills in a real-world setting with the goal of demonstrating attainment of at least five public health competencies by producing two products.
Integrated Learning Experience
1-3 credits
The integrated learning experience is a high quality graduate level written paper that demonstrates your proficiency with the written word and is appropriate for your educational and professional objectives. The paper must address at least three public health competencies.
If appropriate, DVM/MPH students can utilize a scholarly paper prepared for another purpose but only if incorporates a public health perspective and MPH competencies may qualify to meet the MPH integrated learning experience. Situations like this will be evaluated individually by the program director and must be approved.
Students enrolled prior to Fall 2018
Students who enrolled prior to Fall 2018 should follow the requirements that were in place at the time. Please refer to curriculum information in the student guidebook according to the year of your enrollment.
SPH Student Guidebooks Archive
Contact Sarah Summerbell at peter415@umn.edu should you have any questions.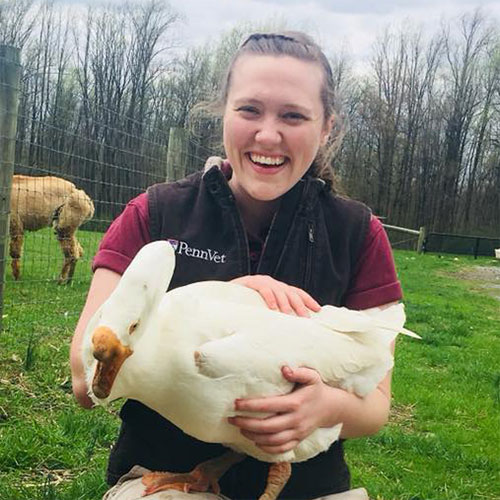 Studying for my Master of Public Health at the University of Minnesota has been one of the best decisions of my life. Not only has my degree empowered me to take on greater scientific and career challenges, but it has expanded my career potential and intellectual interests. The UMN School of Public Health has given me the skills necessary to critically assess scientific publications and outbreak responses, to create and deliver to the public plans to analyze and mitigate health risks, and new excitement and tools to explore the world around me from a public and population health mindset. My MPH is an indispensable complement to my veterinary degree, and essential to my career and life aspirations. UMN SPH has empowered me to change the world and pursue my dreams. I am very proud to be a Golden Gopher alumna.
– Linnea Tracy, VMD (Penn, 2019), MPH (2019)