FAQ
When I began veterinary school, I imagined that I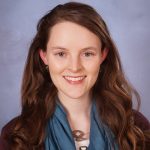 would pursue a career in small animal general practice. However, I soon found that I wanted to more fully explore the space in which animal and human health intersect and found that opportunity in the dual DVM/MPH degree. After completion of my DVM degree, a year and a half of international volunteer work, and a year in private practice (during which time I completed the MPH program), I took a position as a veterinarian in laboratory animal medicine. Working in the research setting allowed me to couple my passion for clinical care with my public health interests of zoonotic disease, regulatory oversight, and of course the application of animal health discoveries to human health. It was a natural fit, albeit a surprising one. Like me, many of my MPH colleagues had never before thought of laboratory animal medicine as an extension of the public health field.
I currently work in IACUC management (pronounced "eye-a-cook") as a research animal veterinarian, which is just the regulatory side of what I did in my previous, more clinical, position. No, the IACUC has nothing to do with cooking— IACUC stands for Institutional Animal Care and Use Committee. This committee serves as an ethics and oversight body for all animal research at an institution and is charged with upholding high standards of animal welfare and science in the research program. Its existence is mandated by regulatory agencies at the federal level. My work supports the IACUC and much of my day is spent reviewing research protocols, providing regulatory training to the research community, and regularly conducting inspections at my institution. The MPH gave me a foundation in ethics, diseases, epidemiology, statistics, collaborative tools, process development and management, stakeholder communication, and regulatory affairs that allows me to perform my job each day. The education I received through the MPH is without a doubt central to all I do.
Megan Clark, DVM (MN, '15), MPH ('18)
Who is eligible for the program?
Applicants be admitted to an AVMA-accredited college/school of veterinary medicine and meet the prerequisites for admission. All DVM/MPH students must have an undergraduate degree. Students are encouraged to begin the MPH program the summer before beginning vet school. In general, early application is encouraged. Veterinary students may apply at any time while you are in veterinary school.
Who are my DVM/MPH colleagues?
150+ active students
22 veterinary schools represented
160+ (and increasing) alumni
When can I start the MPH?
Once you are admitted to veterinary school, you may begin the MPH. We accept applications year round, and our application deadlines are as follows:
April 1 for Summer Term Admission
August 1 for Fall Term Admission
December 1 for Spring Term Admission
Can I apply to the MPH at the same time I apply to veterinary school?
Yes.
For students in this situation, we will review your MPH application and if necessary, hold an official MPH offer of admission until you have secured veterinary school admission. If admitted to both the MPH and DVM, you would begin your MPH the summer before your first fall semester of veterinary school.
The MPH application system (SOPHAS) opens in August and our preferred deadline for summer admission is January 15.
How long does it take to complete the MPH degree?
It depends on you. You have up to five years to complete the MPH. The basic (required) curriculum is offered online throughout the year. Elective coursework is traditionally completed through Public Health Institute and/or DVM transfer credits (max 14 transfer credits). On average, our students complete the MPH in 3.5 years.
What is the transfer credit policy?
Up to 14 credits can be transferred (with approval), saving you time and tuition dollars. The following conditions must be met in order for a course to be eligible for transfer.
A grade of "B-" (3.0) or better is required.
Course credit can not be older than five years.
You must submit a petition to have the courses be reviewed for approval, along with course descriptions and syllabi.
Can a veterinary school scholarly paper count for the MPH?
If you prepare a graduate level paper as part of your veterinary coursework and the topic is public health related, the paper may also meet the curriculum and competencies requirements of the MPH integrated learning experience. To do this, you will need to complete the integrated learning proposal form and receive approval from your DVM/MPH adviser.
Can my veterinary school clinical externships count for the MPH?
In general, no. We do not allow clinical/medical externships or rotations to be used as part of the MPH.
How many credits is the MPH?
The MPH is 42 credits. If you transfer 14 credits (meeting the criteria listed above) from your DVM, then you will complete 28 credits as a public health student for a total of 42.
Are there tracks or focus areas associated with the DVM/MPH program?
There is not a trend and DVM/MPH students do not declare tracks or focus areas. Students are encouraged to take electives that interest them and will have a positive impact on their career goals. Some students choose electives in a concentrated area (such as food safety or global health or infectious disease) while others select a combination of courses from many public health sectors. DVM/MPH students have a strong interest in public health and want to practice with a perspective of improving the health of populations and communities, along with individuals.
Are the MPH classes offered online or in-person?
Both. You will take all of the core public health courses online, giving you the flexibility you need.
The applied practice and integrated learning experiences can be completed at your location.
As a DVM/MPH student you can choose your graduate elective courses based on your career goals and areas of interest in public health.
What is the on-campus component?
The majority of DNP/MPH students complete elective courses at the Public Health Institute (PHI), which is a three-week session offered the last week in May and first two weeks in June.
PHI offers on-campus courses on a variety of current topics in a concentrated format. Students may complete 1 – 2.5 credits per week. PHI provides course content that emphasizes research to practice with opportunity for field trips, case studies and simulations. It provides a perfect setting to network with other professionals (MD, DDS, RN, PharmD, etc.) and explore new areas of interest in public health.
Recent PHI course titles: Globalization & Health; Applied Critical Thinking in the Workforce; Motivational Interviewing: Strategies to Affect Behavioral Change. Over thirty courses are offered over the three weeks.You may attend one to three weeks depending on your personal schedule and you can complete up to seven credits during the PHI.
Other elective courses are offered online and oncampus during the fall and spring terms.
How long does it take to complete the MPH degree?
It depends on you. You have up to five years to complete the MPH. The basic (required) curriculum is offered online throughout the year. Elective coursework is traditionally completed through Public Health Institute and/or DVM transfer credits (max 14 transfer credits). On average, our students complete the MPH in 3.5 years.
How much does it cost?
DVM/MPH students pay resident-rate tuition, which saves you approximately $300 per credit. The majority of students are able to transfer in the maximum number of allowable transfer credits (14), which makes this MPH an extremely affordable option at well under $30,000.
What if I don't finish my MPH by the time I'm done with my DVM?
Although you are encouraged to complete your MPH within three to five years, you have five years to complete the MPH. The clock starts when you register for your first MPH course. You are not required to complete the MPH during the same four years you complete your DVM. If that is a personal goal, we will work with you to achieve it.