Community Service & Engagement
Community Stewardship Initiative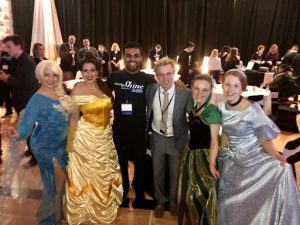 Health starts by building healthy communities. Located in the heart of the Twin Cities metropolitan area, MHA students have a true connection to the greater community. One way this is lived out is through the Community Stewardship Initiative. Chaired by a student from each residential cohort, this student-driven organization works to influence the lives of community members through service and education. Students partner with local community organizations to create volunteer opportunities. Examples include volunteering with Be the Match bone marrow drives, supporting the Tebow Foundation's Annual Night to Shine Gala for children with disabilities, and volunteering at the Ronald McDonald House.
Lowell & Leslie Kruse Scholarship
Sponsored by MHA alumnus Lowell Kruse and his wife Leslie, the Kruse Scholarship seeks to develop students interested in healthcare to go beyond the traditional development pathway to become community leaders.
After seeing that health is only one component of overall wellness, Lowell and Leslie Kruse endowed a scholarship dedicated to developing future community leaders. Throughout this year-and-a-half-long scholarship program experience, students engage with peers and leaders through educational activities and projects designed to add value to student learning and develop skills needed to improve the communities we will live in. The Kruse Scholar experience is grounded in the Baldrige Principles of Performance Excellence and students are advised by Dr. Helen Parsons while both Lowell and Leslie Kruse remain engaged.