Angela Botiba is a Master of Healthcare Administration and Master of Business Administration (MHA/MBA) dual degree student at the University of Minnesota School of Public Health and the Carlson School of Management. As a dual degree student, Angela's work is focused on improving healthcare systems so that they better serve their patients' needs.
First, where did you grow up? Where did you attend undergrad and what was your degree/area of study? [Angela] I came to the U.S. twelve years ago in the fall of 2010 from my hometown of Douala, Cameroon (Central Africa). I attended Skidmore College in Saratoga Springs, NY, and graduated with a bachelor of science in management and business.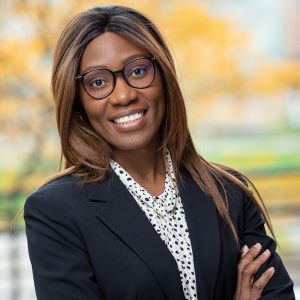 How did you become interested in public health? [Angela] I fell into the field accidentally. Growing up in Cameroon, I dreamed of becoming a doctor because I was a sickly child. I witnessed my mom's frustration when doctors were not able to offer answers to the many ailments that affected me. That is how I became interested in the medical field: to provide answers to patients. I believed that I would be a better doctor; that was before I realized how expensive medical school would be and how much time it would take to complete. After graduating from Skidmore in 2015, I was looking for jobs that would allow me to leverage data insights for decision-making. That is how I landed my first job as a financial and operational analyst position at NYU Langone Health (NYULH).

I quickly transitioned to working in clinical quality and reporting in ambulatory care supporting clinical work and maintaining our compliance with the CMS-administered quality programs. I worked on clinical quality effectiveness initiatives centered around analytics with clinical, IT and business administrators for our providers in over 200 ambulatory practices by leveraging the use of Epic (electronic health record) to improve quality of patient care and experience. Through this work, I realized that, while I couldn't take care of patients directly, I could support the work of those who do. 
What specific issue, problem, or area of research in public health do you care the most about and why? [Angela] I'm passionate about women's reproductive health, especially that of Black women. Disproportionally, Black women are affected by chronic conditions related to reproductive health leading to low fertility rates; yet, not enough resources are allocated to research and address those conditions and no significant solutions are offered to improve their health. 
How would you like to help address or explore this issue? [Angela] There's so much more that healthcare should and could be doing to help reduce health disparities. One way I believe this issue can be addressed is through patient engagement. Instead of being at the mercy of the system, patients become active agents of their health who can lead clinicians to do their jobs more effectively and efficiently. As an administrator, I believe that I can collaborate with other health professionals to create better advocacy and educational programs that help patients understand that they are contributors in producing better health outcomes for themselves.
Why did you choose to come to the U of M School of Public Health? [Angela] The number one reason was because Minnesota is the perfect place for anyone who is interested in healthcare. In my few months in the program, I have learned that not only is the health system robust in this state in terms of services, diverse organizations and innovations, but also there is a strong culture of collaboration between those organizations for the greater good of the community. I came here thinking I would leave at the end of my program, but now I may very well stay in Minnesota after graduation. Reason number two is that I also knew that I would have mentorship baked into the program and that was super important to me. Mentorship has been and continues to be an invaluable component of my professional growth in that they complete my learning off campus. 
What are the reasons why you chose your program? What do you like about it? [Angela] Being a highly ranked program, the #2 MHA in the country, comes with a reputation and you know there is also a higher caliber of faculty and staff. That means, there will be expectations of me, and I like to be challenged. I have a love/hate relationship with my professors because they are pushing me to be better, and sometimes it feels overwhelming, but the suffering is worth it. I chose the MHA/MBA dual degree instead of just the MBA route because clinicians believe that business people are only focused on financial outcomes and aren't focused on clinical care. I wanted to be able to signal to them, with my MHA degree, that I want to be a collaborator, a servant leader who can humble herself to the benefits of the organization and the community at large. In my first year of the dual program (solely dedicated to my MHA requirements), I am thoroughly enjoying networking with successful alumni of this program and the healthcare leaders in the Twin Cities. My coursework brings to the classroom successful leaders from individual contributors to C-suite level from whom we get to learn about their realities and lived experiences.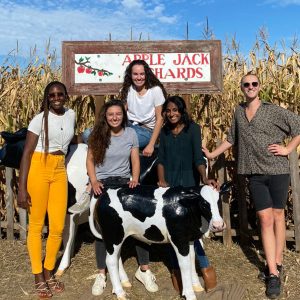 What has been your favorite class so far? [Angela] My favorite class so far has been Health and Health Systems (PUBH 6556) with Professor Jean Abraham. As a cohort, we  agreed that it was the most challenging class but it was also the one from which we learned the most. The class covered all the elements to understand the healthcare landscape from performance measurement, to providers, to payers, to medical devices/pharma and We went through so many different topics so intricately and now we all feel super prepared for our residencies. I'm really looking forward to my next course with Professor Abraham. 
In what ways is the school a good fit for you? [Angela] The problem-solving and evidence-based approach has been a great fit in helping me think about healthcare on a deeper level. Everything we're taught is evidence-based. Also, I had a freak accident where I got a concussion, and I received so much support from my professors and it was very comforting to have them work with me and support me. I didn't get that type of personal care in undergrad. 
What do you like about being in Minnesota? [Angela] I lived in three states in the last ten years, and I do not recall ever enjoying the summer but I do love Minnesota summers! They are hot but there are so many green spaces. My favorite thing to do is to pack up my picnic blanket, my book, my meal and drinks and I am off to the park. I also love the North Shore and waking up to the sounds of Lake Superior. There are so many opportunities to enjoy the outdoors here, in the city or in remote areas. I also like the winter when you have fresh fluffy beautiful snow.