"It's been a good fit because the people have been a good fit. My cohort was excellent; it was filled with folks who are passionate, inquisitive, and engaged with their communities. I learned an incredible amount from them."
First, I'd like to know a little bit about you as a person. Where did you grow up? Where did you attend undergrad and what was your degree/area of study?
[August] I'm originally from Wabasha, MN, which is a small town in the southeastern part of the state along the Mississippi River. Both of my parents work in education, and when I was six years old, we moved to Saudi Arabia after they were hired by a school. We quickly fell in love with our new community, and I spent the next 12 years living there. After graduating from high school, I moved back to the U.S. to attend college at the University of Wisconsin-Madison where I majored in English and anthropology.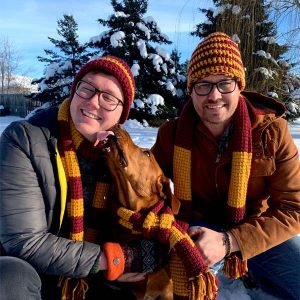 What was that moment in your life when you decided you wanted to study public health?
[August] I can't recall the exact moment that I learned about the field of public health, but I do remember thinking that it was a great blend of all my interests. Public policy, communications, education, and community engagement are key components of public health, and I was interested in exploring all of them. I had been mulling over the decision to pursue an MPH for a while, and when the pandemic hit, it seemed like my decision had been made for me. There was a clear need, and I was ready to get involved. 
Where are you completing your Applied Practice experience (APEX), and who is your preceptor? [August] In the summer of 2022, I completed my APEX with Mexico's Instituto Nacional de Salud Pública (INSP) through a fellowship with a program called Cancer Epidemiology Education in Special Populations (CEESP). The INSP is located in Cuernavaca, which is about an hour-and-a-half drive from Mexico City. I was working in a human papillomavirus (HPV) laboratory within the INSP where I joined a research team that was investigating HPV prevalence and risk factors among transgender women in Mexico City. 
Why did you choose that site?
[August] Prior to enrolling at the University of Minnesota, I had been living and working in Ecuador. I knew I was interested in returning to Latin America in the future, so I set a goal for myself of finding an APEX that would take me back to the region. After learning about CEESP from a fellow student, I reached out to the executive director and was put in contact with my preceptor, Dr. Alejandra Jalil Portillo Romero. I was really excited about the work she and her team were doing. I developed a proposal and was fortunate to receive a fellowship. 
Can you tell me about the product you've developed/are developing for your Applied Practice? [August] Some of the products that I developed include a literature review on HPV with a specific focus on trans women, initial data analysis of a questionnaire that participants completed upon enrollment, the beginnings of a manuscript to submit for eventual publication, and a presentation that I delivered at the CEESP 2022 Conference. We are still waiting for some samples to be processed, and once that happens, we will be able to move forward with the final analysis. I feel fortunate that I was able to learn more about the world of public health research through this position, in particular through a global health lens. 
What impact do you hope your product will have on public health?
[August] As in many parts of the globe, transgender women in Mexico face distinct barriers to accessing medical care and services. Limited research has been done to gain a complete understanding of how this group is impacted by HPV, which is associated with the development of numerous cancers. I hope the study I joined will contribute to greater knowledge about health disparities that will eventually be remediated through policy initiatives.

What was the most exciting thing about this work?
[August] It was great to apply classroom skills in a practical setting. It was also an awesome chance to continue working on my Spanish as it was a fully immersive experience. Though, I have to say that my favorite part was learning about the culture. All of my colleagues and friends were incredibly generous with their time and were so open to teaching me about life in Mexico.

Has your Applied Practice experience influenced your next steps in public health?
[August] It definitely reaffirmed my desire to work in the field of global health. 
Why did you choose to come to the U of M School of Public Health?
[August] There were a couple of reasons. I was living in Minnesota and had access to in-state tuition, which was a big deal from a financial perspective. But I also knew that the School of Public Health had an excellent reputation. I was confident that my education would be in good hands. 
What are the reasons why you chose your program? What do you like about it?
[August] Early on, I was debating between a few different programs. I eventually chose the MPH in Community Health Promotion because I wanted to learn more about working with communities. A common saying among folks in this line of work is that if you want to figure out the solution to a problem, talk to the people who are actually impacted–they already know the answer. It was great learning about designing, implementing, and evaluating interventions to target specific health outcomes. I also like that I was able to develop expertise in policy creation and advocacy within my program. 
What has been your favorite class so far?
[August] I would say Ethics in Public Health (PUBH 6741) with Associate Professor Sarah Gollust was my favorite class, which was a total surprise! This class is part of the required curriculum, and I wasn't looking forward to it with any particular excitement. But Sarah did such a great job of tracing the history of public health ethics and facilitating group discussions about tricky topics. I left each class period with plenty to think about. I would definitely recommend taking any class that you can with her. 
In what ways is the school a good fit for you?
[August] I'd say it's been a good fit because the people have been a good fit. My cohort was excellent; it was filled with folks who are passionate, inquisitive, and engaged with their communities. I learned an incredible amount from them. 
What do you like about being in Minnesota?
[August] Even though I spent most of my childhood growing up in the desert, I'm very much a Minnesotan when it comes to the outdoors. I love the rain and the rivers. And I like that each season gets to live up to its full potential here.