Cole Hanson is a Public Health Nutrition MPH student at the University of Minnesota School of Public Health. Cole's own life experiences have inspired him to create awareness about what we put into our bodies and how it affects our health. He is committed to helping communities that don't have access to healthy food options fight for those resources. Learn more about his experience as a UMN SPH student and a father by reading his responses to the questions below.
What drew you to public health?
[Cole] My mother was chronically ill most of my childhood, and passed away when I was just about 15 years old. That meant my little sister and I had to take care of our family farm in Cambridge while our father worked two full-time jobs to keep it from going back to the bank. I didn't get the chance to learn about healthy eating at home because I was always working on the farm or at the family restaurant to help pay bills. When I did learn about cooking, I only ever learned the basics. We leaned on cheap pasta, canned food and box meals pretty much every day, and depended on school lunches to get regular fruits and veggies. When I went to college (Hamline University '13), I had a meal plan that let me eat whatever I wanted. I quit the plan to save money, but then ate a miserable diet of rice, chicken bouillon soup, and hot dogs for months at a time. My body changed dramatically, and I gained nearly 65 pounds.
I felt so ashamed of myself and what happened, and tried to exercise it off. That didn't really work, and after I was hit by a car on my bicycle in 2014 I thought I'd never get back to a healthy size. A clinician told me about how important food was to weight loss, and as soon as I started paying attention to what I was eating, I began to lose weight. Eventually, I lost all of the weight I had tacked on by simply changing what I ate. That insight transformed the way I looked at food and our relationship to it. I realized that our food system wasn't designed to help families live healthy lives, and that healthy living is more than exercise and a social life.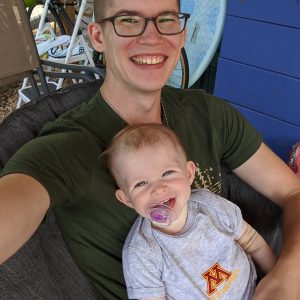 How has COVID-19 impacted your life?
[Cole] Thankfully, my wife has been able to keep her job, but mine was cut short due to COVID-19 related budget concerns. That and the entire semester moving online gave me much more time to spend with my 1-year old daughter, Penelope. While it has been disheartening to see how some folks have responded to the virus, I have been given comfort in seeing my own daughter grow up in a way I might never have been able to had I been working full time out of the house.

In what ways are you working on or responding to the COVID-19 outbreak?
[Cole]When possible, I've been giving a lot of my time to working on food justice and health justice issues in the community. What is most exciting is how local all of this work must be to succeed — I've been looped into district councils, ward politics, and political action groups who are all interested in building capacity to help their neighbors. Shout out to the Frogtown Neighborhood Association — their food shelf operation is one-of-a-kind and has oriented itself fully to protect both participants and volunteers through physical distancing and care package assembly lines!
How has your public health education prepared you for this situation?
[Cole] I have become the go-to misinformation detector for my friends and family on information about how the vaccine trials or testing studies work. I've read more journal articles describing the nitty gritty around COVID-19 than almost anything else recently. I'm glad to do it because, not only is my knowledge and experience trustworthy, but I have been trained by the top educators in the field to suss out good science from bad in the name of public health.
Please describe acts of kindness, positivity, or goodness that you're noticing as we deal with this pandemic.
[Cole] Wow, where to begin? My wife immediately produced enough masks for all of our neighbors when the pandemic first hit Minnesota, so they all had protection right away. My synagogue has been doing one-on-one check-ins with congregants young and old to check-in about spiritual needs that have been unmet due to the pandemic. I've seen my friends and family stand up against police violence while wearing their masks and maintaining physical distance as much as possible. I've seen my former colleagues at UMN Extension innovate their programming so that no person misses out on a class or learning experience. I've seen more kids playing outside, and more parents at home with them. I've seen more gardens and gotten to know my neighbors much better.
What have you learned about yourself through this experience?
[Cole] I've learned I have a lot more patience than I thought I did. Going from full-time student and part-time parent to full-time parent and part-time student was a challenge, but taking the time to enjoy beautiful walks and playtime with my daughter makes it all worth it.