Erica is an Epidemiology MPH student at the University of Minnesota School of Public Health. Erica was drawn to the public health field by her interest in global issues and international health. In addition to her school work, Erica has been working for the Minnesota Department of Health (MDH) in Healthcare Associated Infections. Most recently, she has been reaching out to lab-confirmed COVID-19 patients to identify high-risk contacts and collect data about symptoms and other risk factors. Learn more about her experience by reading her answers to the questions below.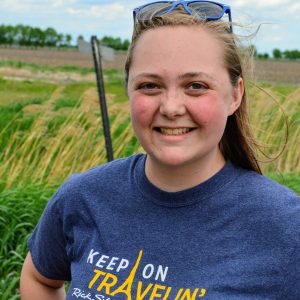 How has COVID-19 impacted your life?
[Erica] Because of COVID-19, I am working more hours at the state health department and have been able to work with people in other public health fields at the Minnesota Department of Health (MDH). Despite working more, I have also found time to start learning to sew, which is something I have always wanted to do.
How are you coping with COVID-19?
[Erica] With my increased hours at MDH, I am actually busier than I was before the pandemic. I have been reassigned from my usual position in Healthcare Associated Infections to work on case investigations. In this position, my job is to reach out to lab-confirmed COVID-19 cases and collect information to help determine where they might have gotten the virus and who they might have exposed unknowingly before becoming symptomatic. We also ask questions about what symptoms an individual has had and a couple of demographic questions. The goal of this work is to try to contain the spread of coronavirus by making sure that every case and all of their high-risk contacts have the information they need to make smart decisions as they recover. Though work is now taking up most of my time, I have been making an effort to get outside as much as possible, mostly by playing tennis with my roommate.
Have you noticed any acts of kindness, positivity, or goodness during this pandemic?
[Erica] Yes! My mom's birthday was this weekend, and our neighbors made her a big poster that said HAPPY BIRTHDAY and held it outside of her window to celebrate. 
What is the first thing you plan to do once this is over and things are 'back to normal'?
[Erica] Go home to see my parents!

Do you think COVID-19 will make more students interested in public health?
[Erica] Definitely! Suddenly all my friends from undergrad know what an epidemiologist does, which suggests to me that the importance of public health is moving quickly into mainstream thought.