"...I realized that I've been impacted by public health, nutrition, and food access all my life. It was a calling."
First, I'd like to know a little bit about you as a person. Where did you grow up? Where did you attend undergrad and what did you study? [Faith] I was born and raised in St. Paul, MN. I graduated with a BA in nutrition dietetics from the College of Saint Benedict in 2020 after completing their didactic program in dietetics (DPD). I then took a year off because of the pandemic.
What drew you to public health? [Faith] I feel like public health has always been a part of my life — in ways that I didn't really understand until I went to college. I attribute everything that I am working on right now to my upbringing. There were so many levels to my experience growing up in the Hmong community of St. Paul. I come from a working class family who utilized every resource available to us, but I was taught to be thankful and remember the privileges that I have. I took these lessons and experiences and ran with them. I believe that my work in dietetics, public health, and policy can all have an upstream effect and change the lives of people like me.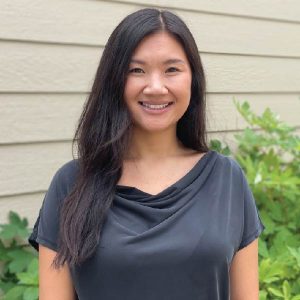 What specific area of public health do you care the most about and why? [Faith] Growing up, I was heavily involved in community service through the National Honors Society as well as my local church. I volunteered at the St. Paul hospital and actively sought ways to work towards causes I believed in. When I began my undergraduate career, my community work became more focused on food insecurity and food access. I began thinking about a dietitian's role in food access, and that peaked my interest in public health. Reflecting on my upbringing, I realized that my family utilized a ton of public health resources, such as the Supplemental Nutrition Assistance Program (SNAP) and the Special Supplemental Nutrition Program for Women, Infants, and Children (WIC). That's when I realized that I've been impacted by public health, nutrition, and food access all my life. It was a calling.
Are you currently involved in any public health research or professional work? [Faith] I am currently participating in the Nutrition and Physical Activity Traineeship with the Illinois Public Health Institute. The traineeship is offered by the Association of State Public Health Nutritionists in conjunction with CDC's Division of Nutrition, Physical Activity and Obesity. There are several core topics and strategies that the traineeships are focused on, and they all are dedicated to advancing health equity and expanding the diversity of the public health workforce. I have worked with an amazing group of partners at both the Illinois Alliance to Prevent Obesity and the Illinois State Physical Activity and Nutrition program.
Why did you choose to come to the U of M School of Public Health? [Faith] I chose SPH because the Coordinated Master's Program offered here is very unique. Here, I can receive an MPH as well as a dietetics internship in the same program, which was the biggest determining factor for me in my decision. During my year off after undergrad, I knew I wanted to pursue a master's degree, and I was originally thinking about something in food science. But public health was a field I wanted to learn more about. I connected with different alumni from SPH that said wonderful things about the Coordinated Master's Program, and it helped solidify my decision.
What do you like about the program? [Faith] I love the program! It's been an awesome experience. One really important aspect of the program that I am most grateful for is our director, Amy Pleimling. As students, we receive 100% of her support. She helped us navigate our coursework in ways that helped our academic trajectory. And since we are such a small cohort, we are able to meet once a week as a group during the school year, and it really makes you feel like you are being supported throughout the program. Associate Professor Jamie Stang has been a great support too, and having such wonderful mentors makes the experience much more enjoyable.
What has been your favorite class so far? [Faith] My favorite class was Community Nutrition Intervention (PubH 6914) with Associate Professor Jennifer Linde. She was so kind and helpful, and the course helped me learn the basics of public health nutrition in a fun way. We did a big project that involved theories, grant writing — things you didn't really get an opportunity to learn about in undergrad.