Gabrielle Horsford is a Community Health Promotion MPH student at the University of Minnesota School of Public Health. Last spring, Gabbi worked with SPH faculty to research interactions between Minneapolis police and young Black men here in Minneapolis. She is also passionate about expanding accessibility and providing public health resources to underserved populations.
What drew you to public health?
[Gabbi] My background is in health psychology, and I was fascinated by the link between physical and mental health. I thought that association went largely unaddressed, especially in medical fields. I was specifically interested in the link between physical and mental health for Black women and the intersection of race and gender. I've also always been passionate about politics and the way economic and social disadvantages play a role in health. Public health is a way for me to combine all of these interests.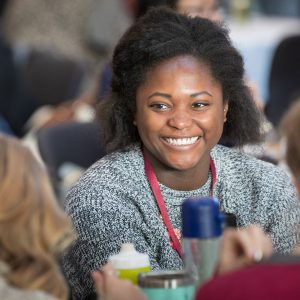 What type of public health work have you been doing during the pandemic?
[Gabbi] In January 2020, I began working on a project regarding violent encounters between Minneapolis police and young Black men with SPH Professors Sonya Brady and Rhonda Jones-Webb, and sociology PhD student Chris Robertson. In June, I began working with SPH Assistant Professors Kelly Searle and Kumi Smith on COVID modeling. Both of these are very salient public health emergencies and have a big impact on the lives of people here in Minnesota. 
Who in the community will benefit most from this work?
[Gabbi] Hopefully, the entire state of Minnesota will benefit from the work. It may have more of an impact on highly populated areas such as Hennepin and Ramsey counties, but I hope that those far north or south will also learn from the MDH models and take preventative measures to stop the spread of COVID. 
How has your public health education prepared you for this situation?
[Gabbi] My public health education has given me the skills to think through situations critically and communicate public health messaging effectively and with empathy. It's important to always think about the limitations of research or proposed solutions, and who may be left out. 
What is the first thing you plan to do once this is over and things are 'back to normal'?
[Gabbi] I hope that things never go "back to normal." People with disabilities or chronic diseases have lived lives similar to the experiences that able-bodied people are now facing for the first time. It has made me realize, if this job or this class or this conference could be done online in a pandemic, why can't it always be offered online and be more accessible otherwise? 
Do you think COVID-19 will make more people interested in public health?
[Gabbi] I hope that this pandemic helps people realize the importance of funding preventative health and preparedness, as well as making sure that tertiary prevention efforts are well funded. Many people might not have heard of epidemiology before this pandemic, and I hope that the new exposure inspires current high school or undergraduate students to learn more about public health.