"Though I largely grew up in the U.S., I was born in England, so I've always had the comparison between the U.K.'s National Health Service and U.S. health care at the forefront of my thinking.
I believe health care is the most significant long-term domestic challenge in this country. Healthcare systems must meet that challenge and deliver safe value-based care while facilitating trust-based relationships.
I'm interested in improving the continuity and coordination of patient care, especially between primary, acute, and post-acute care. What's exciting is that there's so much opportunity for innovation and improvement in this area. Here at the School of Public Health, for example, Assistant Professor Peter Huckfeldt's research comparing Medicare Advantage and traditional Medicare suggests the potential to both lower costs and improve outcomes by reducing unnecessary intensity and utilization of post-acute care.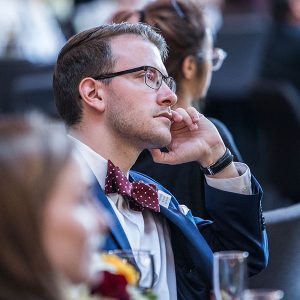 This year I founded the University of Minnesota chapter of the Institute for Healthcare Improvement Open School. My co-director, medical student Angelina Omodt-Lopez, and I structured our chapter on a dyad physician-administrator model for both student and faculty leadership. We're currently working with Hennepin Healthcare's Upstream Innovation group on a tiny home community pilot project to house a diverse mix of chronically homeless and never homeless people in a supportive community. We use a human-centered design approach in consultation with Street Voices of Change, a group of people with personal experiences with homelessness. We're figuring out what would be the right population to potentially live at Envision and how health care would be delivered.
The aim is to both improve the residents' health and reduce unnecessary Emergency Department spending, so the project is financially sustainable. We have several other quality improvement projects in the works at M Health as well, and we will be interviewing MHA and MD students who will take over the chapter this spring."