"I feel a sense of community here, largely because there is a considerable immigrant population in Minnesota. I don't feel out of place being an immigrant or a Muslim woman wearing a hijab — I feel like myself."
First, I'd like to know a little bit about you as a person. Where did you grow up? Where did you attend undergrad and what was your degree/area of study? [Inari] I was born in Ethiopia, and came to the United States with my family when I was seven. I spent most of my life in Minnesota growing up in the Northeast suburbs of Minneapolis. I did my undergrad at the U of M, where I studied family social science. I received my master's in epidemiology here, and am now pursuing my PhD.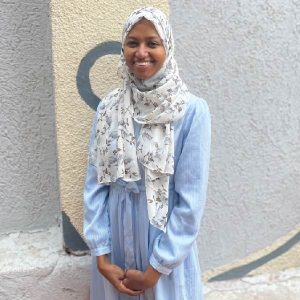 What drew you to public health? [Inari] I was inspired by my childhood experiences. Infectious diseases are a huge problem throughout the world, and I grew up with that awareness. My mother told me a story about how she got malaria, and women in the community I grew up in experienced issues with their pregnancies that were preventable. It all had to do with a lack of adequate structure in the public health and healthcare systems. When I went to undergrad, I knew what I would pursue because of my lived experiences.
Are you currently involved in any public health research or professional work? [Inari] Since I started my MPH back in 2017, I have been consistently doing a variety of research assistantship work with different faculty. I spent some of the pandemic as a case investigator with the Minnesota Department of Health (MDH), and a lot of my doctoral work has been focused on health equity. Then my advisor, Associate Professor Rachel Widome connected me with Assistant Professor Elizabeth Wrigley-Field at the end of 2021, and I've been working on the Seward Vaccine Equity Project with her ever since. I value being able to provide people from marginalized communities with vaccinations. At the School of Public Health (SPH), I have been able to study public health while practicing it.
Why did you choose to come to the U of M School of Public Health? [Inari] I knew I wanted to stay in Minnesota, and I am very fortunate that the School of Public Health here is really good. When I applied, I knew that if I got in, I would go here. There are a lot of faculty at SPH with a variety of experiences in global health, and working with them has helped me accomplish a lot of the projects that I have been passionate about.
What are the reasons why you chose your program? What do you like about it? [Inari] I like how epidemiology makes large public health problems understandable. A lot of times, it can feel overwhelming when we have these huge problems — the COVID-19 pandemic is one example. But we also have been dealing with monkeypox and polio, among other public health crises. With epidemiology, we can understand these issues and contextualize them. We are utilizing qualitative and quantitative data to help prevent people from getting sick, and working on that large scale is something I really enjoy.
What are you most excited about in the SPH Strategic Plan for Antiracism? [Inari] I am most excited about the part of the plan that involves SPH students. I think it is important to achieve the goals the plan sets out, especially with improving the experiences of Black, Indigenous and students of color (BIPOC) and creating a more inclusive learning environment here. BIPOC students have so much to contribute to public health and we want to feel like we belong here as part of the SPH community. 
What is your vision for an antiracist school of public health? [Inari] My vision would include more diversity. Going into a classroom and being the only person of color felt very isolating. So, I think we should focus on enrolling students of color, while also ensuring that our instructors and professors are culturally competent. These students come from different backgrounds, and the work that we do in public health often centers the experiences of communities of color. We have to be intentionally inclusive to be antiracist.
What do you like about being in Minnesota? [Inari] I feel a sense of community here, largely because there is a considerable immigrant population in Minnesota. I don't feel out of place being an immigrant or a Muslim woman wearing a hijab — I feel like myself.