"SPH was a perfect fit for me...I felt welcomed due to the accessibility of my peers and instructors and the fact that I was surrounded by people with similar passions to my own."
First, I'd like to know a little bit about you as a person. Where did you grow up? Where did you attend undergrad and what was your degree/area of study?
[Jackie] I grew up in Winsted, CT, and I attended undergrad at the University of Vermont, where I studied biology and animal science.
What drew you to public health? OR How did you become interested in public health? OR What was that moment in your life when you decided you wanted to study public health?
[Jackie] When I was in undergrad, I worked at the school's dairy farm. I was responsible for sampling the milk from sick cows to make decisions that would protect their health and the quality of the product the farm was producing. This experience first piqued my interest in the relationship between animal and human health. A few short months later, the COVID-19 pandemic started, which, in conjunction with my previous work, allowed me to recognize that there is a real need to study zoonotic disease. 
What specific issue, problem, or area of research in public health do you care the most about and why?
[Jackie] I am most passionate about studying zoonotic diseases and the interaction between animal and human health. With a more intensive food system and a changing climate that is expanding the habitable range of many disease vectors, the profile of infectious disease is changing, too. It is now estimated that about 75 percent of emerging infectious diseases originate from animals, so understanding more about how our health intersects with theirs could have a profound impact on public health.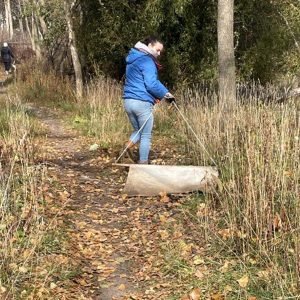 Are you currently involved in any public health research or professional work? 
[Jackie] I was a student worker in the Emerging Infections Program at the Minnesota Department of Health (MDH), where I got to work on COVID, Ebola, and other infectious diseases. I completed my applied practice with the Zoonotic Disease Unit at MDH, which helped me prepare for my upcoming job as an Environmental Health Specialist with Jefferson County Public Health in Colorado.
Why did you choose to come to the U of M School of Public Health? 
[Jackie] I wanted to expand my experiences by going to school in a different region, so I started exploring programs away from the East Coast. Then I had some conversations with students and faculty here at SPH, and the people I interacted with were not just helpful, but really encouraging. That sense of comradery that I felt even before attending SPH was a big selling point; the students, coordinators, and instructors wanted to see me succeed.
What are the reasons why you chose your program? What do you like about it?
[Jackie] I really liked the strength of the curriculum and the diversity of the courses. The mix of strong methods courses, like biostatistics and epidemiology, in addition to fascinating content coursework, like foodborne-disease and antimicrobial-resistance classes, drew me in. Mixing and matching my coursework while still aligning with the environmental health program made it a flexible, exciting educational experience. 
What has been your favorite class so far?
[Jackie] My favorite class was Field and Laboratory Methods in Public Health Entomology with Assistant Professor Jon Oliver! That course was really great because we got to engage in a ton of hands-on activities. We also learned about mosquitoes and ticks from partnering organizations, and it was just fun to learn while being outside of the classroom.
In what ways is the school a good fit for you?
[Jackie] SPH was a perfect fit for me. Even though I was moving from another state, I felt welcomed due to the accessibility of my peers and instructors and the fact that I was surrounded by people with similar passions to my own. At the end of the day, the connections that I made at SPH really are what made my experience worthwhile. Also, the SPH's partnership with the Minnesota Department of Health gave me the amazing experience of applying what I learned in the classroom to real-world public health work.
What is your vision for an antiracist school of public health?
[Jackie] Uplifting voices of people from marginalized communities is one of the most important things we can do. We are never going to be able to find and integrate solutions to oppressive systems unless we involve everyone. That is especially true in public health.
What do you like about being in Minnesota?
[Jackie] One of my favorite things about living in Minnesota is the natural landscape! The public parks system is great, and there are green spaces everywhere. I feel like I could enjoy some city life while also being in nature. That goes for the winter too — I loved being able to grab some cross country skis and have some fun.