Justin Bayles is a second-year MHA student at the University of Minnesota School of Public Health. With experience working and studying abroad in Kenya, the United Kingdom, and India, Justin has become an advocate for increased accessibility and affordability. Learn more about his work and experience as a UMN SPH student by reading his responses to the questions below.
What drew you to public health?
[Justin] From a personal perspective, public health is something I've been interested in for several years. I enjoy volunteering and being involved in a variety of community organizations and consequently have become aware of barriers that people face in accessing healthcare. I've also seen challenges faced by my own family, such as the distance to the right provider, lack of resources to see that provider, or just a lack of knowledge about the lifestyle they are living. All of these factors play into my personal reasons for choosing public health. 
 Professionally, I've always been interested in this idea of America being the "Great Melting Pot" of cultures. The more that I've been engaged in the community, the more I've seen the challenges of addressing the variety of needs faced by different populations of people. During winter break 2020, I was privileged with the opportunity to study abroad at Nitte University in Mangalore India, where I studied some of the challenges facing rural and tribal populations. Though some of the challenges are similar to what we see in the U.S., such as the distance to medical clinics and the lack of clean drinking water, the cultural tradition of giving birth at home was new to me. I'm interested in finding solutions in healthcare and public health that both respect the cultural traditions and norms of different cultures, and also promote the opportunity for individuals and populations to live as healthy as possible. 
What is the problem you are trying to solve?
[Justin] I'm passionate about creating access and opportunities for individuals to receive the healthcare treatments they need. I enjoy volunteering in the community and serving in areas where I feel that I can make a meaningful contribution. For the last several years, I've had experiences in settings ranging from small town Wyoming to larger cities, and even abroad in Kenya, the United Kingdom, and India. In each place, I've found that the people are different but the challenges are the same. 
As I look into public health and specifically into healthcare, everything comes down to affordability of healthcare and the ability to access that care. Affordability is complex; I believe it starts with providers and insurance payers and carries through to consumers. 
The future state of healthcare affordability and access will require a greater understanding and respect for people's cultures and backgrounds combined with advanced technology to create a personalized experience for everyone. The technology that we have today, and will have in the future can completely change the healthcare experience.
People need help connecting with health resources and the system that offers these services needs to be reformed to better serve the consumers. I want to contribute to innovating and changing the system to be a better resource for people and their families, in Minnesota, the U.S., and abroad.  
What makes affordable and accessible healthcare significant?

[Justin] When people can't afford or access healthcare, they don't consume it. The less they consume and the more they are out of touch with their health, the greater risk they are to developing conditions that may affect their wellbeing for the rest of their lives. Nobody wants to suffer and nobody wants to pay more for healthcare than they absolutely need. If we can work on making access a priority and we keep working on making healthcare more affordable, then maybe we can make the difference in our communities that will help everyone.
 In India, the infant mortality rate is approximately 32 per 1000 live births. Many individuals aren't aware of the benefits of giving birth in a healthcare facility, or they face significant challenges getting an ambulance to take them to a facility when it's time to give birth. This puts both the mother and child at risk and leads to a number of other health challenges. It seems that of all problems to have, the ability to give birth in a sterile facility with trained providers should be at the top of our priority list. 
In the U.S., healthcare access is highlighted in many different areas from access to primary or specialty care physicians, access to appropriate medications, or being able to afford the care that individuals need. When individuals can't access the care they need, they may suffer long term consequences or disabilities. We should all be concerned about the wellbeing of ourselves and others. 
Why did you choose to come to the UMN School of Public Health?
[Justin] As I prepared for my interview for the Master of Healthcare Administration (MHA) program, I decided to investigate the school website. I came across the SPH India programs and was fascinated that the school of public health was considering opportunities for students outside of Minneapolis. The more I looked into the program, and eventually participated in it, I realized that the school's focus was on helping to improve public health both in the local community and the global community. 
 Now after nearly completing the program, I enjoy how active the alumni network is. Everyone seems willing to answer questions and provide advice when they can. I also appreciate that each one of my professors to this point has spent time in their respective fields becoming an expert, and that they incorporate their industry knowledge into the learning experience.
Lastly, what do you like about being in Minnesota?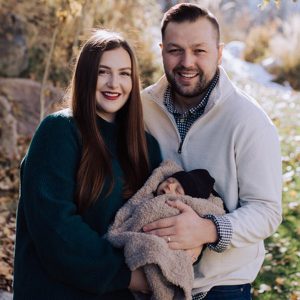 [Justin] Growing up in the Mountain West was a great experience for me; moving to Minneapolis for graduate school provided myself and my family an opportunity to explore a new geographic area with a different culture. I've come to appreciate the flat landscape, the lakes, and of course apple orchards. 
Maybe more importantly, Minneapolis is where my son Theodore was born, less than a month after we moved here. Being able to grow our family here has helped me to feel rooted and connected to the people here. From the moment I moved here, I've felt a connection to the people I've met, and I feel at home.