Karen Chen is a first-year Public Health Administration and Policy MPH student at the University of Minnesota School of Public Health. She was recently awarded the 2020-2021 Robert L. Kane Endowed Chair in Long-Term Care & Aging United Way Scholarship. Her scholarship includes an internship with the Metropolitan Area Agency on Aging. Karen is also a case investigator for the Minnesota Department of Health and a quality improvement volunteer in the Phillips Neighborhood Clinic.
Where did you attend undergrad and what did you study?
[Karen] For my undergrad degree I attended the University of Minnesota. I received my bachelor's of science in psychology and a minor in public health. It was a really good experience, and public health was a great minor. I originally started off as a nursing student and a few of my friends were doing the public health minor and talked me into joining. I honestly had no idea what public health was and my first 100 level class got me really interested in how everything is tied to public health. It was a good alternative to being a hands-on patient advocate.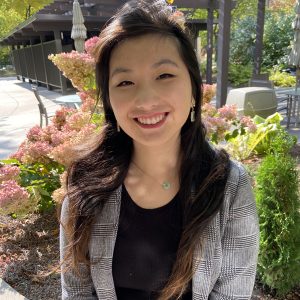 What made you want to get your Master of Public Health degree?
[Karen] What ultimately drew me to the field of public health was my personal desire to ensure that no one is forgotten in the healthcare system. It is easy to get lost or confused when navigating the healthcare system. My parents are both immigrants who are not fluent in English. I was the translator for my immediate family and grandparents, especially for their healthcare needs. I served as their health advocate which has inspired me to always fight for the quality of care that everyone should receive. I have seen firsthand the challenges that exist in healthcare. I want to serve as an advocate for larger populations and improve the accessibility and quality of care that patients receive. 
As a first year MPH student, how are you liking your courses?
[Karen] I'm really enjoying my Principles of Health Policy class (PUBH 6735). We're currently working on how big of a process it is to define a new policy and how specific a policy has to be in order for it to be implemented. A lot happens behind the scenes. The problem you address has to be really specific and you have to define the population, issues, and a potential solution.
What public health issues do you care the most about and why?
[Karen] I care a lot about racial disparities, quality improvement, and healthcare policy. I believe that making a change in one healthcare system could improve nationwide healthcare systems.
How are you coping with COVID-19? What have you learned about yourself through this experience?
[Karen] Within the school, I've been getting involved with the aging population to help identify isolation issues they face due to COVID-19. The pandemic has brought out the racial inequities that the system already has, but now that I'm involved in public health and it's in the public eye with everything going on in the country, there's a big push for change. We can really learn a lot right now about racial inequities and we can work to make a change towards a better future.
Do you think COVID-19 has made more people interested in public health?
[Karen] I think that this pandemic highlights the importance of public health in the healthcare system and now the public really understands the role that public health has in their lives. It's given people a better insight into the cost of public health — both time and financial — for such things as the cost of getting a test, taking care of people, treating illnesses, and discovering a vaccine. 
In what ways is the school a good fit for you?
[Karen] It's been a good fit for me because of my interest in health disparities. Since my very first day of school, SPH has implemented into the curriculum racial inequity teachings and that's been something they address and speak about on a regular basis. It's been good to discuss how these inequities impact sensitive populations. They also integrate today's problems into the conversation and curriculum which makes what we're learning really relevant.