Sam Greenwald is a Master of Science (MS) in Health Services Research, Policy & Administration student at the University of Minnesota School of Public Health. Sam's work is centered around improving the healthcare experience for the LGBTQ community. Learn more about Sam by reading his responses to the questions below.
Where did you grow up? Where did you attend undergrad and what was your degree/area of study?
[Sam] I grew up in Minnetonka, MN, and I attended Vassar College in upstate New York where I majored in Science, Technology, and Society — a really broad interdisciplinary major. With that degree, I had a lot of liberty to fulfill the credits how I wanted. About half of my classes were in the hard sciences, which I used to fulfill my pre-med requirements. The other half was focused on the sociology of science, where I focused on public health. I chose to write my undergrad thesis there on healthcare for transgender adolescents and the controversy surrounding that issue.
How did you become interested in public health?
[Sam] After I had completed my pre-med requirements in undergrad I was interested in going to medical school, but I knew I really wanted to dive more into queer and trans healthcare. Over the next few years, I increasingly realized how much more I preferred a system-level approach to doing this work and felt I would be able to do it well in public health.

What specific issue, problem, or area of research in public health do you care the most about and why? [Sam] I'm really interested in a public health approach to transgender health and LGBTQ healthcare interactions. I'm still not sure exactly what role I'd like to play in contributing to progress on these issues, but know that I want to center my career around them. 
One of my first experiences in public health was an internship at Rainbow Health as a summer data collection Intern for the 'Voices of Health' survey. In that position, I helped train volunteers to collect surveys and then I would code those surveys in Excel. It was a great experience because I could see someone's personal story in their responses, and then was able to aggregate those stories into data for future advocacy. 
How would you like to help address or explore this issue?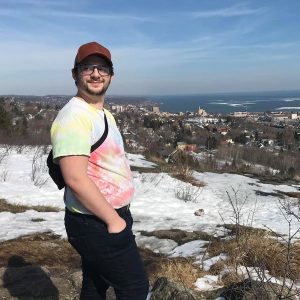 [Sam] I think when discussing how to improve LGBTQ health, the conversation usually ends at increasing cultural humility among providers. This is unquestionably important, and there's still a lot of work to do in training providers to better understand queer and trans identities, such as how to respect patients' pronouns.
That said, I'm currently more interested in epi research to inform the best practices that guide treatment decisions. There's a need for more rigorous, quantitative research focusing on this relatively small and hard to reach population. For example, there are unique risk-factors and effects of cancer among gender and sexual minorities that may go undetected in a study of the general population. Identifying and meeting the unique health care needs of gender and sexual minorities is my ultimate goal.
Are you currently involved in any public health research or professional work?
[Sam] I am. I'm working part-time as a student data worker at the Minnesota Department of Health in the Child and Family Health Division. We have 12 priority areas that we're focused on, and I have specifically been assigned to work on the health of boys and young men, adolescent suicide, and housing. Our job is to track and analyze these issues in Minnesota to ensure that we're making progress on them with federal grant money. Recently, I've also started a research assistant position at SPH under Drs. Simon Rosser and Tetyana Shippee. They've received an NIH grant to study how long-term services and supports (LTSS) intersect with LGBTQ and dementia patients to see how well current policies are working, and will eventually provide long-term care staff with training on these issues.
Why did you choose to come to the U of M School of Public Health?
[Sam] I came back to Minnesota after undergrad because this is where I grew up. The U of M has great programs for studying human sexuality and is a powerhouse in sex and gender research. I also really love living in my neighborhood because there are a lot of people who are part of the LGBTQ community. It's ultimately this community here in Minnesota that I want to have an impact on. 
What are the reasons why you chose your program? What do you like about it?
[Sam] I like the Health Services Research, Policy & Administration MS degree program because it has more flexibility and fewer required credits. I value the open curriculum. I also wanted to have one foot in research and one in policy because I hope to generate data that will inform how policy comes together. 
What has been your favorite class so far?
[Sam] Sex, Sexuality, and Sexual Health [PubH 6081] with Professor Simon Rosser. He emphasized "learning by doing," and I appreciated the applied practice of working in groups and hearing from speakers in the field. It's really helped me visualize what working in sexual health would be like.
In what ways is the school a good fit for you?
[Sam] The interdisciplinary structure is something I've really appreciated. There are so many unique programs to specialize in, and yet broadly overlapping methods and issues between them. I think this is well illustrated by the LTSS study I'm working on, where the two principal investigators are collaborating across disciplines. Dr. Rosser's work in the division of Epidemiology and Community Health focuses on sexual and gender minorities whereas Dr. Shippee is a social gerontologist in the Division of Health Policy and Management. Their combined expertise perfectly addresses the very specific topic at issue and the study is so much stronger for it. 
What do you like about being in Minnesota?
[Sam] Compared to the East Coast, Minnesota is a lot nicer. I would say that the weather is brisk but the people are warm.