Stefani Aleman is an Epidemiology MPH student at the School of Public Health who is pursuing a degree in public health to "to use the power of data for advocacy, with a special focus on improving the conditions of our most vulnerable members in society." Stefani is currently working at the Minnesota Department of Health (MDH). She shares her experience working at MDH and coping with COVID-19 below.
How has COVID-19 impacted your life?
[STEFANI] The change that I struggle with the hardest is being far away from both of my parents (they live in Oregon). A couple of weeks ago my parents both came down with a cold, coughing, and a fever; they are relatively young but have pre-existing conditions. Immediately my mind was racing and I was distraught, despite my training as an epidemiologist all rationale went out the window and the worst outcomes came to mind. They stayed home, their condition improved without the need of acute care, and they are back to their normal baseline of health. The inability to act or care for loved ones physically has been the most drastic impact for myself.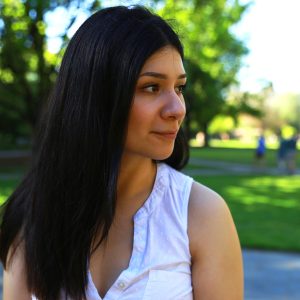 How are you coping with COVID-19?
[STEFANI] I'm coping well. Whenever the news begins to bring me down, I try to ground myself in positive thoughts, knowing that during these uncertain times there is always someone or something to be grateful for. And, I have never been more grateful for my ID epidemiology colleagues and care providers on the front lines.

Other ways that I've learned to cope:
I started a book club with my friends in Oregon

I picked up cross stitching to create gifts for friends and family

I am picking up shifts at the MDH public hotline

Staying connecting with friends and love one

s
In what ways are you working on or responding to the COVID-19 outbreak?
[STEFANI] I am currently conducting the analyses to evaluate our COVID-19 outreach and survey activity for nursing homes and home care providers. COVID-19 has had a disproportionate impact in long term care facilities and congregating living settings, and MDH has been proactive by using outreach and regulatory enforcement to help protect these vulnerable populations. With the current projects that I am on, we aim to understand what preventive strategies are currently in place in these care settings to determine the impact that these policies and procedures have on COVID-19 mitigation. We hope to use these findings to help guide phase 2 of outreach and reduce the COVID-19 transmission in these high risk settings. I've tried to help in other ways too by picking up 3-4 shifts a week for the Minnesota Department of Health's COVID-19 public hotline to help ensure Minnesotans are receiving accurate, data driven, and transparent answers to the many changes that have been implemented in recent days to slow the spread of COVID-19.
How has your public health education prepared you for this situation?
[STEFANI] Beyond analyzing data, my public health education has taught me how to effectively communicate to the general public important and potentially life saving information. In every one of my Epidemiology courses (I, II, III), my professors have highlighted the importance of "speaking in plain english." Our results, data, and findings are useless if we cannot effectively communicate what it means to our colleagues and to the general public.
What is the first thing you plan to do once this is over and things are 'back to normal'?
[STEFANI] The very first thing I plan to do once this is over and things are back to normal is to see my friends and take one last long walk around the Lake of the Isles. I want to have a proper goodbye with the people I've grown close to in my cohort and to visit my favorite outdoor spots before I move back to my home state.