The pursuit of greater value in health care requires goal alignment and collaboration between payer and provider that goes well beyond the signing of the contract.  This session will explore how value-based arrangements between payers and providers are evolving over time with a focus on understanding the challenges, best practices, and opportunities that lie ahead. The panel will discuss these issues in the context of a six-year value-based payment agreement established between Blue Cross Blue Shield of Minnesota (BCBS) and Allina Health in 2020.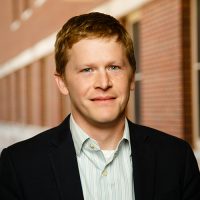 Moderator:
Peter Huckfeldt, PhD
MHA Faculty at the University of Minnesota
Peter Huckfeldt is an associate professor and the Vernon E. Weckwerth Professor in Healthcare Administration Leadership in the Division of Health Policy & Management at the University of Minnesota School of Public Health.
Read more
He teaches economics courses in the University of Minnesota Residential and Executive Master of Healthcare Administration programs. His current research investigates the relationship between Medicare payment policies, health care use, and patient outcomes. In other work, he is estimating the impacts of lifestyle interventions targeting chronic conditions on economic outcomes and long-term Medicare spending. Finally, his current research investigates whether states expanding Medicaid eligibility during the Affordable Care Act experienced better outcomes during the COVID-19 pandemic. Prior to coming to the University of Minnesota, he was an economist at the RAND Corporation. He received his PhD in economics at the University of California, Davis.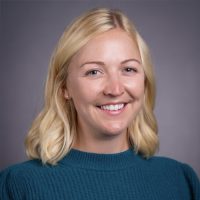 Ellie Hallen
Director of Population Health, Allina
Ellie Hallen joined Allina Health in July 2015 as the Administrative Fellow for Dr. Penny Wheeler, then CEO of Allina Health.
Read more
In May 2016, Ellie stepped into her next role as Neuroscience Program and Operations Manager, which she served in for 5 years, leading a multi-specialty neuroscience clinic and building clinical programs to support Allina's patients living with brain tumors, memory issues, and movement disorders. In 2019, Ellie had the unique opportunity to serve as the project manager for Allina Health's effort to establish a long-term value-based contract with Blue Cross Blue Shield MN. In parallel, Ellie organized an internal effort to establish Allina Health's 5-year strategic roadmap for success in population health. She has now been serving as Director, Population Health for over two years, building the foundational operational and strategic capabilities required for achieving Allina Health's population health goals. In 2021, Ellie took on additional responsibility as Director of Operations, Allina Integrated Medical Network, a role in which she leads the strategic and operational alignment of the clinically integrated network to Allina Health's population health journey.
Ellie received a Master's of Healthcare Administration from the University of Minnesota in 2015, and an undergraduate degree from Boston College in Economics and Psychology in 2012.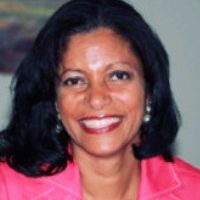 Maria Lime-Leite
Allina, VP of Payer Relations
Maria Lima-Leie serves as the Vice President of Payer Relations and Contracting for Allina Health.
Read more
Prior to coming to Allina, she served as Vice President, Medical Delivery Strategy for Scott & White Health Plan where she set and execute strategic growth plans, establish reimbursement policies and developed relationships with key medical delivery system partners, managed contract audit process, and ensured consistency between contract terms and adjudication of authorizations and claims.
Maria is a senior Healthcare Executive fluent in the full range of managed care operations, with notable expertise in negotiation, contract analytics, capitation, and risk-sharing arrangements. She is lauded as a "get-the-job-done" leader who leverages financial acumen and exceptional relationship skills to drive results in fast-paced, highly fluid environments. Whole developing partnerships with medical delivery systems through innovative strategies that promote member satisfaction and unit cost control. Maria holds a Bachelor of Science in Accounting from Johnson and Wales University and a Master of Public Health with an emphasis in Health Administration from Suffolk University.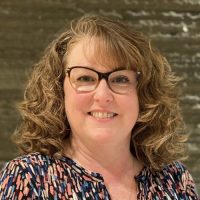 Pam Pridgen
Allina, Payer Relations and Contracting
Pamela Pridgen joined Allina Health in March 2005 as a Contract Manager in the Payer Relations & Contracting department.
Read more
In this role, she served as the relationship and contract account manager for multiple major payers and liaison to Allina Health's hospitals and ancillary service divisions.
In her current role, Pam is the Senior Contract Manager for the Allina Health and Blue Cross Blue Shield MN relationship. Along with negotiation and contracting responsibilities, she leads and manages multiple stakeholder workstreams in the development and execution of collaborative strategies supporting the organizations' value-based agreement executed in 2020.
Prior to joining Allina Health, Pam held various roles focused primarily in contract negotiations, finance, market assessments and business strategies. In addition to Allina Health, her 32 year career in healthcare includes positions at a national infusion therapy company and the launch of two start-ups focused on cardiology practice management and radiology/imaging centers.
Pam has been married for 32 years to her high school sweetheart, Scott, and they have one son playing baseball at Florida International University. Pam is a graduate of Metropolitan State University with a Bachelor of Science in Business.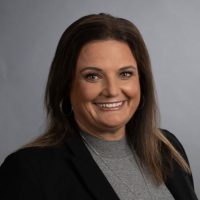 Heidi Nielsen
BCBS, Director Implementation & Strategic Execution
Heidi Nielsen is the Implementation and Strategic Execution Director for Medical Management at Blue Cross Blue Shield of MN.
Read more
In this role since December 2021, Heidi leads planning activities to develop and manage the annual operating plan for Medical Management and ensures alignment of the division's business strategies with the organization's strategic direction and plan.
Prior to her current role, Heidi was the Strategic Provider Partner supporting the Allina Health and Blue Cross relationship.  In addition to traditional contract management responsibilities, Heidi worked closely with her counterparts at Allina to plan and execute on strategies to support the long-term value-based agreement between the parties.
Before joining Blue Cross in 2016, Heidi held a variety of clinical roles including pediatric and neonatal nursing, managing a pediatric clinic, public health nursing, and overseeing clinical quality programs.  Heidi has a Master's in Business Administration from St. Thomas and a Bachelor of Science in Nursing from the University of North Dakota.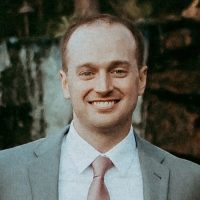 Phil Solyntjes
BCBS, Strategic Provider Partner
Phil Solyntjes graduated from UW-Eau Claire and transitioned into a financial analyst role at Optum.  In his two years in this role, Phil performed typical FP&A duties such as forecasting and budgeting.
Read more
He then moved into the Optum Consulting division, specializing in Network Intelligence for the next six years. Accountabilities revolved around discount and rate analysis for all major payers in targeted markets as well as development of negotiation strategies and support. During Phil's tenure at Optum, he attained an MBA from the University of Minnesota and Certified Management Accountant (CMA) designation. Phil joined BCBS in November 2019 as an Account Manager primarily working with Winona, Mankato Clinic, and Fairview.  Over the last year, Phil was promoted to Strategic Provider Partner and moved from the Fairview account to the Essentia and Allina accounts where he has been heavily involved in ongoing discussions around value-based arrangements.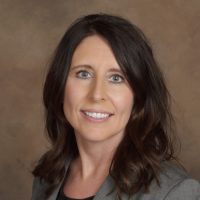 Melanie Teske
BCBS, Senior Director Provider Payment and Network Innovation
As Senior Director, Provider Payment and Network Innovation at Blue Cross Blue Shield of Minnesota, Melanie Teske is responsible for collaborating with leaders across the organization to identify opportunities to design and implement innovative payment and network strategies focused on improving health outcomes and reducing overall cost of care.
Read more
Her responsibilities include developing and implementing disruptive payment methodologies that support overall value-based payment redesign while collaborating with the Provider Partnership team on initiatives to improve on the Triple Aim. Melanie works collaboratively with the Government and Commercial teams to align network & product strategy with customer goals.
Melanie has over 25 years' experience in the health insurance industry with a background in provider relations, underwriting and sales. Melanie earned her bachelor's degree in Business Administration & Marketing from Mankato State University and her MBA from the University of St. Thomas.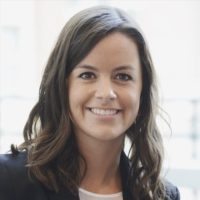 Rachel Kuhnly
Allina, Population Health Manager, Operations
Rachel Kuhnly graduated from the University of Minnesota's Master's of Healthcare Administration program in 2019. During her time in the program, she served as an Administrative Resident in the Allina Health system at Abbott Northwestern and then became the Administrative Fellow for Dr. Penny Wheeler, the CEO of Allina Health during that time.
Read more
During her fellowship, she had the unique opportunity to serve in the command center during the COVID-19 pandemic and eventually transitioned into a Strategy and Business Development Consult role. During this time, she worked on many population health related projects and programs, including helping to build and run the operations of Allina Health's Home Hospital Care program, which brings hospital-level of care into the patient's home. As a result, she had the opportunity to transition onto the Population Health team as the Manager of Population Health Operations and now works with the team to ensure successful execution for Allina Health's population health journey.