About
Faculty, students and staff at the School of Public Health are actively engaged in global health activities through research, education, and service. The School of Public Health contributes to the University of Minnesota goal to address global grand challenges by bringing partners together to advance the health of populations worldwide.
Faculty conduct interdisciplinary and collaborative work with academic institutions and community-based groups around the globe.  Education activities are grounded on the principles of inter-professional development and cross-cultural studies. The Global Health Minor and the Certificate in Global Public Health offer courses that prepare students to be actors and players in diverse global health settings. Through research and education, we are engaged in the larger purpose of co-creating and sharing knowledge with our partners and collaborators, and finding new approaches to address global health needs.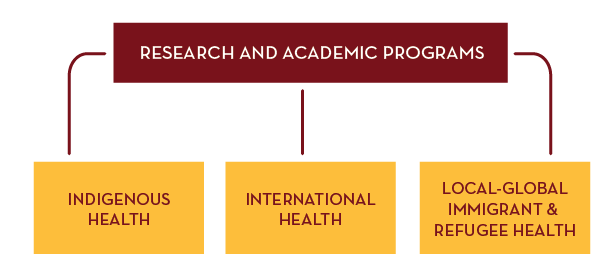 Title: About GHWG
Top of chart begins "Research and Academic Programs"
1.Indigenous Health
2. International Health
3. Local-Global Immigrant & Refugee Health
Principles
We are committed to developing, supporting, and maintaining opportunities for members and affiliates to engage in meaningful global health and wellness work.
We foster partnerships to undertake research that can translate into improvements in health and wellness in diverse communities.
We support initiatives that promote cultural awareness, cultural humility, health equity, and well-being in our increasingly interconnected world.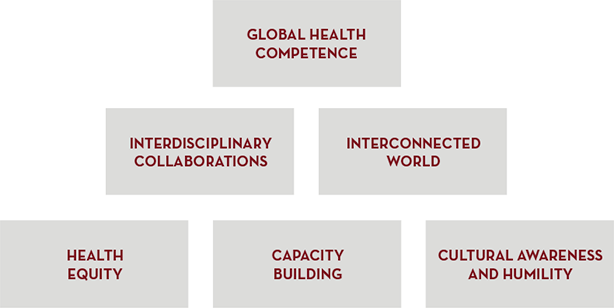 Title: GHWG Principles
1. Global Health Competence
2. Interdisciplinary Collaborations
3. Interconnected World
4. Health Equality
5. Capacity Building
6. Cultural Awareness and Humility
Contact
For more information on the SPH Global Health Work Group, Contact us directly at ghsph@umn.edu.