Home » Academics » Executive & Distance Degrees » Executive MPH in Public Health Practice
Pair your professional experience with a flexible, hybrid MPH degree.
The Executive Program in Public Health Practice offers working professionals the opportunity to understand, assess, and manage population health in public health, health care, and human services settings. It brings together the art and science of public health.
Tailor the MPH to fit your practice and career goals with a combination of onsite and online public health courses. This high-tech and high-touch program supports your goals and lifestyle.
The program is designed for professionals with an advanced degree, such as an MD, DDS, DVM, PharmD, PhD, MS, JD, or public health professionals with significant work experience who have completed the School's Public Health Core Concepts Certificate.
Why Minnesota?
Focus: Design the program to fit your interests and goals. Gain a broad understanding of public health practice or delve deep into a focus area such as public policy, food safety, or global health.
Flexible: Attend full time or part time or a combination of both to meet your lifestyle. You can finish as quickly as 16 months or take up to 5 years to complete your degree.
Affordable: Students in this program receive in-state tuition rates.
The curriculum is a combination of foundation courses focus on public health, electives courses of your choice, and a customized field experience and MPH project.
You can complete the basic core curriculum courses online or onsite and complete your elective courses during the May session at the Public Health Institute (PHI), which offers onsite courses on a variety of current topics in a concentrated format over three weeks.
You may attend one to three weeks dependent upon your time and can complete up to 7 credits at the PHI. Other elective courses are offered online and onsite during the fall and spring terms.
Basic curriculum (15.5 credits)
The basic curriculum courses are offered online and onsite:
PubH 6299 Public Health as a Team Sport: the Power of Collaboration (1)*
PubH 6020 Fundamentals of Social and Behavioral Science (3)
PubH 6102 Issues in Environmental and Occupational Health (2)
PubH 6320 Fundamentals of Epidemiology (3)
PubH 6414 Biostatistical Literacy (3)
PubH 6741 Ethics in Public Health: Professional Practice and Policy (1)
PubH 6751 Principles of Management in Health Services Org (2)
*This course is offered on a Fri evening and Saturday during the Public Health Institute.
Field experience (2-4 cr)
This is an opportunity for you to learn first-hand about organizations, operations, and special activities of selected agencies, institutions, and industries concerned with public health practice. You may complete your field experience at any agency as long as the agencies' goal is to enhance the health of the public. The field experience can be completed at your location or anywhere in the world.
MPH project (4 cr)
The MPH project provides a culminating experience for you, enabling you to demonstrate the use of public health principles and competencies. The MPH Culminating experience can be completed at your location, at your convenience.
There are five MPH culminating options:
Certified in Public Health Exam (CPH). Certification as a Public Health Professional demonstrates your command of a standard of knowledge and skills in public health; encourages lifelong learning; adds credibility to public health profession; increases public health awareness, fosters an environment of professional community and puts you ahead of the curve as a public health professional. Students are eligible to take the CPH exam after completing 21 credits by the end of fall term. The 21 credits must include the core concept courses. EPPHP students who take the non-credit bearing CPH exam to satisfy this requirement will substitute additional 4 credits elective courses.
Consultation report – the consultative report offers students the opportunity to address a real problem faced by a public health agency (public or private) and produce a product for a real client.
Research paper – the research paper will focus on pertinent questions or issues in public health practice.
Systematic literature review – the literature review will focus on pertinent questions or issues in public health practice.
Grant proposal – learning how to write a successful grant application is a very important skill to possess in the practice of public health.
Focus Area Curriculum (18.5 credit minimum)
EPPHP students have the opportunity to choose their elective courses based on their career goals and interests. Students may choose to complete an established interdisciplinary concentration, focus on one or two topics, or take a variety of electives.
Some EPPHP students complete electives courses by taking online courses offered during the fall or spring terms, but the majority of EPPHP students complete the elective courses at the Public Health Institute, which is offered in the last week in May and first weeks in June, during the May session.
The University of Minnesota offers affordable and competitive graduate tuition while also being situated in one of the most affordable metropolitan areas in the country.
Cost
2015-16 Tuition & Fees
| MPH | Resident |
| --- | --- |
| per credit | $910 |
| Total tuition (42 cr)* | $38,220 |
| Fees ** | $3,300 |
*Based on 2015-16 tuition rates and subject to change.
**Fees are approximate and assume enrollment in student health insurance plan (approx. $1,100/term). Additional fees apply for international students. See SPH Tuition & Fees for full details.
Funding
See a full list of scholarships available to Public Health students.
Other Costs to Consider
The SPH is 25 minutes from MSP-International Airport, a major hub; METRO light rail transportation goes from airport to campus.
A number of hotels are near campus with affordable rates.
Applicants must possess an advanced degree, such as MS, MD, DDS, DVM, PharmD, or PhD, or a Public Health Certificate in Core Concepts with a minimum CUM GPA of 3.25 and have significant work experience in the area of health or human services.
Admissions by the Numbers
| | | | |
| --- | --- | --- | --- |
| |  Applications | Accepted | Graduated |
| 2011/12 |  38 | 35 | 17 |
| 2010/11 |  41 | 39 | 30 |
| 2009/10 | 44 | 41 | 11 |
| 2008/09 | 25 | 23 | 12 |
Who are EP-PHP Students?
| | | | |
| --- | --- | --- | --- |
| | 2012 | 2011 | 2010 |
| DDS |  5 | 3 | 3 |
|  DVM | 28 | 26 | 20 |
| JD  | 1 | 0 | 0 |
| MD/MBBS  | 25 | 29 | 32 |
| PhD/MA/MS  | 9 | 8 | 3 |
| PharmD  | 4 | 3 | 4 |
| PubH Core Concepts Cert  | 5 | 4 | 2 |
Many students will use their public health knowledge and skills to enhance effectiveness and opportunities in their current work or career path. This major emphasizes the importance and applications of basic scientific knowledge to current societal problems and concerns.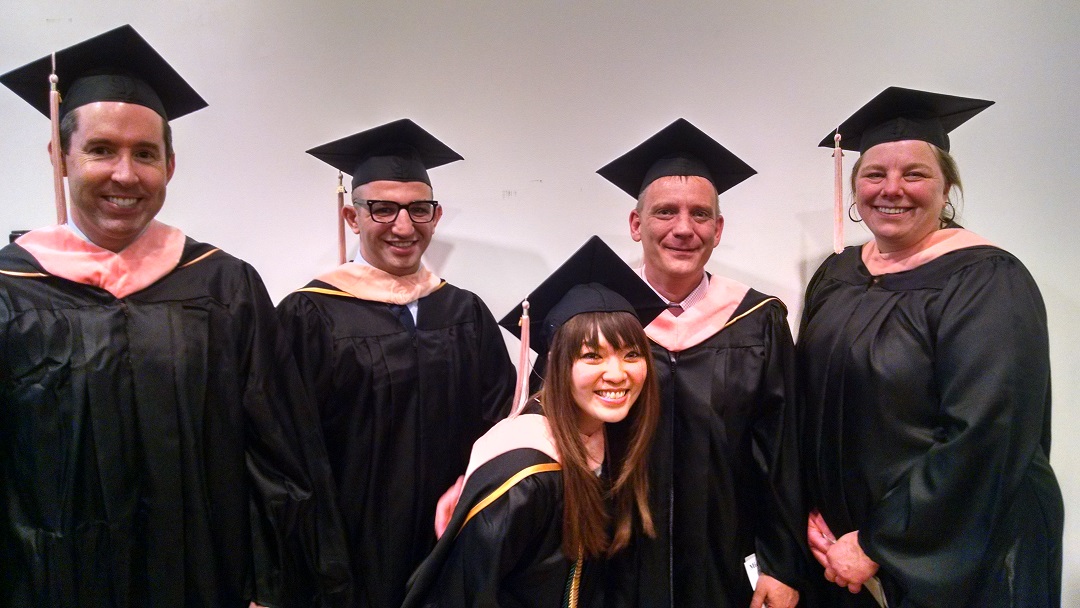 This was program helped me gain public health skills that allowed me to conduct research and develop community health programs.
–Amira Adawe, PubHCCC, MPH

Application Deadlines
April 1 for
Summer Term Admission
August 1 for
Fall Term Admission
December 1 for
Spring Term Admission