Commit
Using "commit" emphasizes a pledge to prioritize antiracist efforts in making SPH a more welcome, equitable, and just organization.
Why do you think some U.S. states, cities, and counties have recently declared racism, a public health crisis or emergency and what do you feel is the importance of those declarations?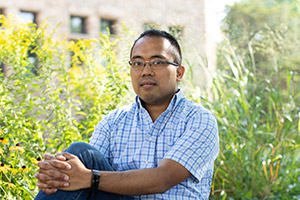 "I'll speak a little bit personally here. If someone like me, you know this Filipino man who obviously has darker skin than a typical white person, feels some sort of hesitation to be out in public for fear of prejudice, or for fear of some form of discrimination, this can affect my mental well-being. Furthermore, especially with the rise of attacks on the Asian community, not only can it affect my mental well-being but, if such an attack were to take place on me, that then also impacts my physical well being.
These are things that have been going on for centuries, and so, for cities, counties, and states to declare racism to be a public health emergency is an acknowledgement that these things are going on and that they need to stop."
What do you see as your role in antiracism?
"I am part of the recruiting committee within the Division of Biostatistics and one of the ways in which I contribute to antiracism is to help diversify the student body. I am engaged in a lot of efforts to recruit students of color, women, and students from other underrepresented backgrounds, such as those who do not have the typical socioeconomic background to be engaged in graduate school.
To go a little bit beyond that, as a Filipino academic biostatistician, I'm hoping that I can serve as a beacon for others to look at me and say, 'If he can do it, perhaps so can I.' Hopefully just by me being me I can inspire others to see this as a potential career for themselves."
How are you committing on a daily basis to antiracism?
"As a professor, one thing I ask students is, 'What populations are involved in the study and what does that mean for the conclusions that can be drawn? And with that in mind, how well do the results of the study generalize to someone like yourself?' Those are important thoughts and questions that incur self reflection, especially when it really wasn't that long ago when research was conducted mainly on white men and people of color weren't recruited into studies."
Challenge
We are "challenged" to accept that racism exists and to "challenge" it when we see it.
What are some ideas you have about how to stand up to racism?
"As individuals, before we can take on any external action, we need to do some self reflection on where we have our own prejudices. If there is any existence of prejudice in ourselves, we need to be aware of that and, after identifying it, we can begin to make changes. I think that is an important step; it doesn't necessarily need to be the first step, but I think that is something we could all do starting now."
What challenges, do you face yourself in prioritizing anti-racist efforts?
"In my previous answer, I spoke about self reflection; however, once I've identified my own personal prejudices, the difficult part is knowing how to make change in myself. And sometimes the changes take so long that it can be frustrating and make me feel like I'm not making any progress at all."
Change
We have to be willing to "change" and shift our beliefs, attitudes, and actions toward equity and justice.
What is your vision for an antiracist school of public health?
"My vision is that regardless of the color of one's skin, regardless of their religion or their country of origin, that one could view this school of public health to be a place where they belong.
Whether it's a student who believes that this would be an excellent place for them to study without fear of being discriminated against, or if it's a staff or faculty member who wants to work here, that they can feel like they belong and that this would be an excellent environment to be in.
Furthermore, I want the people whom we serve in the Twin Cities and beyond to look at the School of Public Health and be excited to have a partnership with us, and that they feel like it's a natural engagement."
What is the most important ingredient for culture change in our school and as a community?
Buy in. Everyone needs to buy in and hold themselves and each other accountable.
We can keep making forward steps by having an excellent accountability system, and an excellent accountability system comes from everyone buying in.
"Building Equity, Driving Justice: Commit | Challenge | Change" — ties all communications related to the SPH Strategic Plan for Antiracism together under one look and feel. The theme showcases our guiding principles, and it motivates and inspires. "Agents for Change" profiles support this theme and all interview questions are related to the action words, Commit, Challenge, Change, as described above.
Submit an idea for this profile series — either your own story, or one that inspires you from another SPH individual or group.