Better nutrition. Better health. Stronger communities.
The Public Health Nutrition MPH program is designed for students who are committed to health promotion and disease prevention through healthy eating. The curriculum strongly emphasizes food access, nutrition policy, community nutrition interventions/programs, health disparities, nutrition assessment, and healthy eating throughout the life course.
Our Public Health Nutrition MPH program is located in the Division of Epidemiology and Community Health, a Division that uniquely houses Epidemiology, Public Health Nutrition, Maternal & Child Health, and Community Health. This interdisciplinary structure provides students with access to courses and faculty across disciplines. Students also have the opportunity to specialize their training to individual interests and career goals.
Effective for the 2020 admissions cycle, this program does not require the GRE. Applicants who have already taken the GRE may submit their scores if they choose, however it is not required.
Advantages of the Public Health Nutrition MPH
Career and Impact Focused. Thorough, application-oriented training develops the skills necessary to create, implement, and evaluate nutrition programs and interventions.
Innovative Education. Students can focus their training on epidemiologic methods, pursue the coordinated master's program—one of the only programs of its kind in the U.S., or customize their studies to other specialty areas.
Tailored Focus. Through concentrations, certificates, and minors such as global health, public health policy, and health equity, students can tailor the program to their interests.
Exposure. Students move through the program with one cohort group and engage with faculty, practitioners, and trainees from various backgrounds in a highly interdisciplinary environment.
Who Should Apply?
Students with career goals in public health and applied nutrition, community intervention, and nutritional epidemiology are ideal candidates for this program. The program is also a valuable prelude to other graduate and professional education, including education in applied health professions (such as medicine, nursing, or dentistry), law school, and agriculture-focused studies.
Coordinated Master's Program — Becoming a Public Health Dietitian
Curriculum & Degree Information (PDF)
Click here to learn more about:
The program mission, goals, & objectives
ACEND accreditation of the CMP program
Requirements for becoming a registered dietitian
Frequently Asked Questions (PDF)
Click here to learn more about frequently asked questions, including:
CMP specific program costs & tuition
The academic calendar
2018-2019 Public Health Nutrition MPH Student Guidebook (PDF)
Click here to learn more about the program and program requirements, including graduation requirements.
Application Deadline
Final Deadline: July 15
Scholarship Deadline: December 1
Coordinated Master's Program Final Deadline: December 1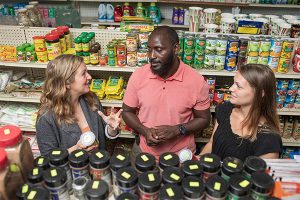 Professor Melissa Laska (left) and Public Health Nutrition student Kirsten Arm (right) are working with local Northside business owners, like Ousman Camara (center), to get healthy, fresh food in neighborhood stores.
Learn more