"I was impressed with the accessibility to participate in research and how much SPH faculty take you under their wing."
First, tell us a bit about yourself. Where did you grow up? Where did you attend undergrad and what was your area of study? [Bailey] Most recently, I've lived in the Midwest and in Belgium. I moved every three years for most of my life because dad works in the agriculture industry. I finished high school in Minnesota, and was drawn to the U of M for my undergrad career because it was still a new environment for me, while still being close to family. We have mainly lived in rural settings, so attending college in Minneapolis was an exciting change of pace! I studied ecology, evolution, and behavior through the College of Biological Sciences and I minored in sustainability and Japanese. 
How did you become interested in public health? [Bailey] During undergrad, I knew I was interested in climate change and the impact of climate change on ecosystem health. Then, while studying abroad in the Galapagos Islands, I learned how ecosystem and human health are tied together. I was able to visit conservation centers and a coffee plantation that worked on restoring native biodiversity while also profiting off growing local coffee. It was inspiring to hear the owner discuss how preserving native biodiversity was crucial to providing food and resistance to diseases for human and animal inhabitants of the islands. While in the Galapagos, I studied damselfish behavior patterns, specifically the aggressive, territorial and algae farming behaviors. I then used this observational data to assess the health risks of damselfish based on behavior.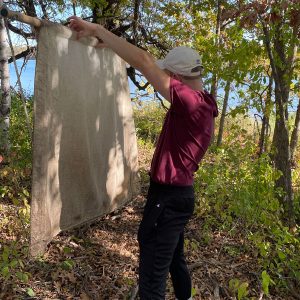 What specific issue, problem, or area of research in public health do you care the most about and why? [Bailey] The main reason I wanted to go into public health was to better understand the intersection of climate change and infectious diseases. I also wanted to learn more about the One Health framework, which assesses how to best improve the health of humans by acknowledging the interconnections between humans, animals, plants and the environment. This framework is something I have been able to apply in my current research.  
I am currently researching moose ticks and their relationship with Northern Minnesota moose health. The overall goal of this research project is to understand if we can identify the presence of P. tenuis, a pathogenic nematode known as "brain worm", in moose tick DNA from moose who were confirmed to be infected/died from P. tenuis. If we are able to do so, our findings could imply how moose ticks may become a surveillance tool to understand the transmission rate and geographic spread of P. tenuis among our vulnerable moose population!

In what other ways are you hoping to explore this area? [Bailey] After graduating with my MPH, my goal is to pursue a PhD. I'm torn between studying marine ecology and vector-borne diseases. If I pursue a PhD in disease ecology, my dream would be to work for the World Health Organization (WHO) and be able to provide specific information about a disease, how it spreads through a population, and advise on the best intervention practices. Ideally, the diseases I would like to work with are neglected tropical diseases, since these diseases (vector-borne diseases especially) are heavily influenced by climatic variation and extremities. I also want to develop tangible solutions to diseases that are impacting the most vulnerable, low-income populations.
Are you currently involved in any public health research or professional work?
[Bailey] I work at the Minnesota Department of Health (MDH) as a zoonotic disease student worker. I do a lot of zoonotic disease surveillance across the state, help with COVID case intake, and run the rabies hotline. We cover such diseases as the highly pathogenic avian influenza (HPAI), rabies, and some fungal diseases such as blastomycosis and histoplasmosis. 
I also work with the SPH Upper Midwest Agricultural Safety and Health Center (UMASH) on diarrheal illness in people that have reported that they live on a farm with agricultural animals or have visited a place with agricultural animals and have had contact with them. I completed my Integrative Learning Experience (ILE) through MDH, where I wrote a descriptive analysis on the trends we noticed through our rabies hotline from 2019-2021.
Why did you choose to come to the U of M School of Public Health?
[Bailey] For me, I was really drawn to the 4+1 Environmental Health MPH program. I had made some friends here that were studying public health and already knew some of the faculty in SPH. I was impressed with the accessibility to participate in research and how much SPH faculty take you under their wing. Even during the hard parts of the pandemic, they were great advisors. The 4+1 program is a great way to save money and get a head start towards an MPH degree. 
What has been your favorite class so far? [Bailey] My favorite class was Ecology of Infectious Diseases taught by SPH Assistant Professor Gillian Tarr and Dr. Tiffany Wolf from the College of Veterinary Medicine. It was the perfect combo for me and met at the intersection of all of my interests (human and animal health, disease and ecological modeling, how to mitigate the spread of disease). I got to learn valuable lessons about real world applications of how a disease spreads between animals and humans, and what kind of work disease ecologists do
In what ways is the school a good fit for you? [Bailey] It's been bittersweet, being a 4+1 student, it almost felt 'too quick'. I only had one year to be just a grad student. I will definitely miss the highly collaborative spaces within classrooms. Everyone always wanted to reach out and get to know each other, especially in the more general classes.The interdisciplinary approaches to public health that were addressed in my courses were particularly inspiring for me because I started this program with minimal public health knowledge. It surprised me how many concepts discussed in my ecology and sustainability coursework were being applied in my public health courses.I also really appreciate how the classwork was focused on creating tangible solutions to issues rather than memorizing terms. 
What do you like about being in Minnesota? [Bailey] I do like the summertime here a lot because it gets really warm and it's so easy to go visit a lake in the city. I love that! I also enjoy a lot of the rich culture within the city of Minneapolis with all the different foods and festivals. One of my go-to spots for food is Momo Sushi! They serve authentic Japanese and Tibetan food. It feels like a large city but it's still a close community. I'm also proud that I learned how to Nordic ski while in Minnesota.