Brenna Horn is a second-year graduate student in our Master of Science (MS) Health Services Research Policy & Administration degree program. Brenna's public health mission is centered on improving the systems that support healthy aging and the care of elderly individuals with complex health issues. Learn more about Brenna by reading her responses to the questions below.
Where did you attend undergrad and what was your degree/area of study? [Brenna] I grew up near the Twin Cities in Maple Grove, MN. After high school, I went to the College of Saint Benedict & Saint John's University where I received a Bachelor of Arts in peace studies with a social science concentration.
What drew you to public health? [Brenna] After graduation, I worked for several years in the health and human services field. My last job was in a nursing home as an activities professional. I was ready to move away from a direct care role into a more systems-focused role.
What specific issue, problem, or area of research in public health do you care the most about and why? [Brenna] I am mostly interested in improving long term services and support for older people with complex health conditions. Some people are independent right up until the end of their life and some need years of care. There are a lot of ways long term care services can be very helpful and there are some ways in which we fail.

How would you like to help address or explore this issue? [Brenna] Right now, I am a research assistant for two amazing projects. The first one is the Families and Long Term Care Project that Professor Joe Gaugler leads. The other is the EQuaLS Project (Equity and Quality in Long-Term Services and Supports). My work has included analyzing interview data from  family caregivers who are caring for family members with dementia living in residential long term care during the pandemic.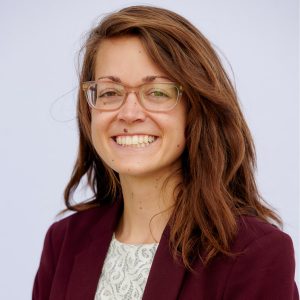 What can you tell me about your Masters project? [Brenna] For my Masters project I am trying to identify and analyze the rates of serious mental illness that exist in Minnesota nursing homes. I'm looking to break those rates of illness down by race and then see how it compares to the mental health services that are available in that area. 
Why did you choose to come to the U of M School of Public Health? [Brenna] It's a top ranked school and I already knew I was interested in studying healthy aging, which is something the School of Public Health is known for. Professors Joseph Gaugler and Tetyana Shippee are here and they're well known. Between the Life Course Center, the Rural Health Research Center, and the Center for Healthy Aging and Innovation, I knew it would be a good place to build my skills as a public health professional. 
What are the reasons why you chose your program? What do you like about it? [Brenna] There is a lot of overlap between the programs I was looking into which was reassuring that I couldn't make too wrong of a choice. I like that my program has a lot of flexibility. I felt like I would be able to make it my own while still being able to learn those core skills. I also was really interested in data visualization, and I knew I could take courses to become familiar with r statistical programing and biostatistics. My program has really allowed me to use both sides of my brain. My MS degree is also more affordable than getting an MPH and can be completed faster.  
What has been your favorite class so far? [Brenna] That's a hard question but I have really liked the hands-on courses like Qualitative Research Methods in Public Health Practice (PubH 6636) with Professor Melissa Laska. In her class, we went through the whole process of interviewing, transcribing, and analyzing data. It was a great experience and it was cool because we didn't just interview our classmates, we identified and surveyed real people. 
In what ways is the school a good fit for you? [Brenna] I've really appreciated my classes and having a graduate research position has been so wonderful. I've learned a lot and I feel like I have a lot of concrete skills that I'll be leaving the program with. 
What do you like about being in Minnesota? [Brenna] I like being in Minneapolis because it's a big city with a lot going on. There's a lot of green space and the city really prioritizes pedestrians and bicyclists. It's also close to nature if you want to get away from the urban setting for a bit. Also, Minnesota is known for their aging services.