Delaine Anderson is a Maternal & Child Health MPH Student at the University of Minnesota School of Public Health. Delaine is committed to supporting and empowering rural pregnant people to provide better birth outcomes. Learn more about Delaine's experience as a U of M School of Public Health student by reading her responses to the questions below.
Where did you attend undergrad and what was your degree/area of study?
[Delaine] I attended the University of Alabama where I changed majors several times. I first switched from nursing to dietetics and then finally to exercise science. With that degree I got a minor in gender studies. For me, moving from California to Alabama was a huge change and opened my eyes to all of the issues around healthcare access. Surprisingly, it was a lot more difficult to get to a clinic in rural Alabama than in the overpopulated Los Angeles area. 
How did you become interested in public health?
[Delaine] With my exposure to health inequities in Alabama I came to realize I really wanted to help with a person's whole health rather than just cope with problems after they're already sick. Eventually, I want to be an OBGYN at a rural hospital. When I look at the bigger picture, public health allows me to better serve my community as a whole. Public health covers every dimension of our lives, and studying just one area of health wasn't for me.
What areas of public health do you care the most about and why?
[Delaine] I'm focused on two main areas. First, I'm a student PI (principal investigator) on a qualitative research project that examines the effects on women's body image as it relates to diet and exercise social media content. Social media is absolutely affecting our mental health, eating disorder prevalence, and so much more… Technology has grown so quickly that we haven't had a chance to stop and study how it's affecting people's minds.
Secondly, I'm passionate about empowering women during pregnancy and supporting birth in rural spaces. Birth has been really medicalized, and people believe that it has to happen in a hospital which isn't always the case. There needs to be a greater focus on re-engaging midwives and empowering folks where they need support. Rural pregnant people are often hundreds of miles and hours away from their doctors, and we need to do more to empower them and provide better birth outcomes. 
How do you plan to address this important issue?
[Delaine] I work on the Pregnancy Risk Assessment and Monitoring System (PRAMS) team which surveys postpartum individuals to see: how many actually saw a physician before birth; when they saw their doctor; how often they saw them; if they felt racially profiled; etc. This is a continuous surveillance project tied to birth certificates and mailed surveys.
What did you choose the SPH Maternal & Child Health MPH program and what do you like about it?
[Delaine] What really impressed me about the Maternal & Child Health MPH was that it is so established and it has offered online programming for a while as well. Coming in during the pandemic, that was super important to me and I feel like I've had wonderful instruction. 
My professors have been exceptional and so supportive — they work in the community and they do big things here in Minnesota and nationwide. That was something that really showed through when talking about curriculum options. I feel like every part of our curriculum and training is intentional to prepare me for being a maternal and child health public health practitioner.
Why did you choose to come to the UMN School of Public Health?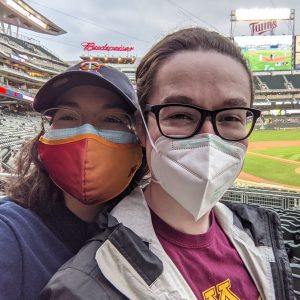 [Delaine] I only applied to public health programs with a focus on Maternal and Child Health (MCH) and I toured all of the schools that I was accepted to. What drew me to the University of Minnesota School of Public was its Rural Health Research Center. I really enjoyed that the U has established resources and I felt wanted by their onboarding team. 
At other schools it felt like I was part of a checklist during the admissions process. At every point of contact with UMN SPH they knew me, they had reviewed my application, and wanted to learn more about me; that made a big difference. There's something different about the culture of this school that I wanted to be a part of right away after visiting.
What do you like about being in Minnesota?
[Delaine] What I've liked about Minnesota is the focus on building community. There's always a fair, a festival, and ways to gather and be with your neighbors. There are so many beautiful areas across the state and people will be there snow, shine, rain, or sleet.