"I was working as a newspaper reporter in Fargo when I decided to come back to school for biostatistics.
I love that statistics is intellectually challenging and that the research affects people's lives, from the food they eat to the treatments they use when they get sick. That's a lot of power, and therefore, a lot of opportunity to do good. I think I can also communicate statistics effectively to help people understand what the numbers mean for them.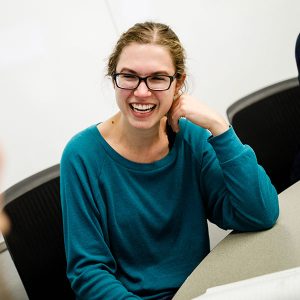 I get most excited about how much we still have to learn about the human body. We don't know what causes many diseases, let alone how to prevent or cure them. I look forward to seeing how the field evolves to tackle these questions and hope to be a part of future breakthroughs in medicine and public health.
At the moment, I am working as a research assistant with Dr. James Neaton on the PREVAC Ebola vaccine trial in West Africa, which has been really rewarding. I see myself continuing to work on clinical trials, as well as exploring other specialities, such as machine learning and Bayesian statistics."