Sarah Steffen is a Community Health Promotion MPH student at the University of Minnesota School of Public Health. Sarah is a member of the SPH Student Senate, competes in public health case competitions, and works with SPH alums to improve health policy in Minnesota. Read her responses to the questions below to learn more about her experiences as a UMN SPH student.
If a close friend asked you why you're studying public health, what would you tell them? [Sarah] When I was an undergrad I volunteered and worked at a free clinic called Oasis. Anita Ruff, the Executive Director, was my mentor there and she inspired me to study public health. We served low-income and uninsured residents of mid-coastal Maine by providing primary care and dental care, and it was a great introduction to the importance of public health. 
Why did you choose to study Community Health Promotion? [Sarah] I'm interested in program evaluation, and Community Health Promotion teaches you the most about how to evaluate programs and implement improvements. In the future, I hope to work for health insurance programs and ensure that the programs are cost effective for patients and provide patients with the best care. If you don't evaluate your programs you could end up wasting valuable resources.
What type(s) of public health research are you involved with? [Sarah] This summer I'm working on a research project with my advisor Nancy Sherwood. We have partnered with YMCA Camp Menogyn to understand how wilderness camp impacts key determinants of youth mental health. Summer campers have the opportunity to participate in a survey before and after camp, and then we will compare results of the pre and post camp surveys. I'm grateful to Anne Eaton's SPH biostatistics consulting class for helping me design the statistical power for my project.
Are you involved in any other research or work related to public health? [Sarah] I'm a student consultant through the Community Health Initiative hosted by the UMN Office for Business & Community Economic Development. I also work for the Beautywell Project with SPH alumna Amira Adawe where we do skin-lightening and health related work.
What is it like working alongside an SPH alum? [Sarah] Amira is awesome. She's very connected in the community and I was able to watch her testify in front of the Minnesota House Health Finance and Policy Committee about skin-lightening products, their dangers to our health, and how they affect immigrant and migrant communities.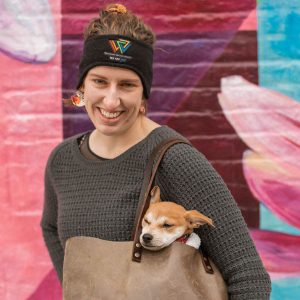 How are you coping with COVID-19? What have you learned about yourself through this experience?  [Sarah] I was able to adopt a puppy because I work from home. His name is Pringle and I got him from Rough Start in Minnesota. As of January, I'm also the finance director for the SPH Student Senate and we've been hosting a lot of events to help students network and get to know each other. The senate has been a good way to communicate regularly with people and get to know my classmates. I've definitely realized that I value connecting deeply with the people in my community.
Why did you choose to come to the UMN School of Public Health? [Sarah] I had moved back to Minnesota because of the pandemic. Before that, I was in DC, but Minnesota is much more affordable. I was looking at two other schools but I didn't want to move to a new city where I didn't have a support network. I was lucky that there's a strong program with amazing faculty in my hometown area. 
In what ways is the school a good fit for you? [Sarah] The number one reason is Marta Shore. She's the best instructor that I've ever had. I had Biostatistics 1 (PUBH 6450) with her and I finally realized how fun statistics could be. It's also great having classes with Michael Osterholm and taking business classes with the UMN Carlson School's Medical Industry Leadership Institute program. It's fun to get to know other students from across the U. I also enjoy participating in case competitions with students from across the world.