"I wanted to bridge the gap between public health and health care. Whenever I engage in my work, I think about [my mom]."
First, I'd like to know a little bit about you as a person. Where did you grow up? Where did you attend undergrad and what was your degree/area of study?
[Shehrose] My parents immigrated from Pakistan, and I grew up in Chicago, IL. I went to University of Wisconsin-Madison, where I studied Health Promotion and Health Equity, Global Health, and Public Policy. If there were a public health undergraduate major, I would've studied that!
What drew you to public health? OR How did you become interested in public health? OR What was that moment in your life when you decided you wanted to study public health?
[Shehrose] I grew up as a clinical interpreter for my mom because she wasn't proficient in English. One day, I wasn't able to go with her to interpret, and she was prescribed the wrong dosage of insulin. Luckily there were no serious consequences to that event, but it was an "ah-ha" moment for me. I wanted to bridge the gap between public health and health care. Whenever I engage in my work, I think about her.

What specific issue, problem, or area of research in public health do you care the most about and why? 
[Shehrose] I want to make language access and interpreter services more efficient and accessible at hospitals. Language services sometimes are not offered to those with limited English proficiencies, and that is resulting in preventable misdiagnoses. Public health is all about trying to prevent the most amount of suffering, so I see this as a public health issue.
Are you currently involved in any public health research or professional work? 
[Shehrose] During my time at SPH, I was a graduate research assistant for the Rural Health Research Center, where I focused on staff burnout and interpreter services. That was great, and aligned with what I wanted to work on. I also wanted to learn more about maternal and reproductive health. I now work with the Center for Antiracism for Health Equity (CARHE), which is conducting amazing research on racialized violence towards Black birthing people and their babies. 
Working at CARHE feels like coming full-circle, because I am a huge fan of Professor Rachel Hardeman. I wrote my whole personal statement on her when I applied to attend SPH! These two centers have helped me practically apply my schoolwork to addressing the social determinants of health and advancing health equity.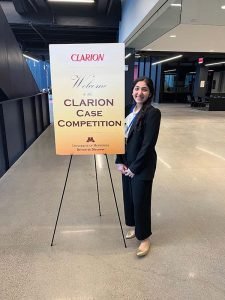 Why did you choose to come to the U of M School of Public Health? 
[Shehrose] There are three main reasons:
The school's mission to make health a human right aligns closely with my personal beliefs and goals

I wanted to live and work in a state with a large immigrant and refugee population, and that is reflected both in Minnesota and in the health equity programs here

I had informational interviews with a lot of different schools, but the conversation I had with SPH was the only one where I truly felt welcomed and heard. As a first generation college student, it can be hard to navigate academia but the faculty and staff, namely Rebecca Wurtz, Jason Hill, Stuart Grande, and Darren Katlved, made me feel like I was being invested in. And throughout my time at SPH, I feel like the experience lived up to that promise of inclusivity.
What are the reasons why you chose your program? What do you like about it?
[Shehrose] I really enjoy my classes! Professor Katy Kozhimannil taught Principles of Health Policy, where I was able to speak to policymakers and legislators, like MN State Representative Kaohly Her. We worked on a project surrounding data disaggregation in Asian communities in Minnesota, and how embracing the diversity of Asian communities is essential to promoting health equity. That is a topic that I am deeply invested in, and I don't think I would have gotten the opportunity to do that anywhere else.
What has been your favorite class so far?
[Shehrose] Jess Roberts teaches a course called Human Centered Design for Public Health Leadership and Practice, and that was super interesting. As a spoken word artist, I am a big proponent of stories. This course helped us think about public health interventions in a different way than what I was expecting; it helped humanize the people we were working with. Oftentimes, when we're just looking at statistics, I think it can be difficult to comprehend the direct impact on people; but this course helped make those qualitative data and experiences more meaningful.
In what ways is the school a good fit for you?
[Shehrose] The cohort model has been very beneficial for me. I've made some really great friends in this program, and it makes me happy to know that they will be my colleagues in public health after we graduate. I also appreciate the mentorship and guidance I've received, in addition to the opportunities to work at great research centers and as being the Director of CLARION. I feel like more than a student here; I am a person.
What are you most excited about the school's Strategic Plan for Antiracism?
[Shehrose] It's exciting that there is a tangible, living document that exists that can help guide us and hold everyone at SPH accountable. It's awesome to see a whole section dedicated to students, especially with the focus of recruiting and retaining BIPOC students. The work is never "done," but this plan is an important step to making sure that we're not just talking.
What do you like about being in Minnesota?
[Shehrose] I am a big foodie, and I have been impressed by the restaurants and food scene in Minnesota! My favorite meal is brunch, and some friends in my cohort go with me to a new brunch place regularly. I went to Hell's Kitchen recently and ordered these award-winning lemon ricotta pancakes. They were amazing.