June 26, 2023
8:30 a.m. – 2:00 p.m.
The event will take place at the McNamara Alumni Center, Minneapolis Campus.
Today, unlike any time in history, there are more older people than children in Minnesota. This demographic reality is here for the long term and will impact the core of work in all sectors. As they move into retirement, today's older adults and Baby Boom Generation carry with them lifetimes of experience in innovation, creativity, and leadership. At the University, we choose to purposefully engage them for the betterment of our University and communities.
To coalesce our work across campus, the University of Minnesota Twin Cities is the first institution for higher learning in Minnesota to enroll in the Global Network of Age-Friendly Universities. On June 26, 2023 we will be holding the second annual Age-Friendly University Day at McNamara Alumni Center. This event will bring around 250 retirees, older Minnesotans and lifelong learners together at the event. Activities will include a keynote presentation by Diana Pierce, a panel hosted by NPR correspondent Chris Farrell, breakout sessions on financial fraud, mindfulness, and climate change, and more!
8:00 a.m.
Tai Chi Quan
Presented by: Trellis
8:30 a.m.
Registration & Continental Breakfast
9:00
a.m.
Welcome & Remarks
Rajean Moone, Ph.D., Age-Friendly UMN Council
9:15
a.m.
What's Next: Creating Your Personal Portfolio of Life
Diana Pierce
9:35 a.m.
Finding Purpose & Passion
Chris Farrell (moderator)
Featured Panelists: Rose W. Chu, PhD | Sheila Peyreud | Anthony Taylor
10:35 a.m.
Break & Booths
11:00 a.m.
Breakout Sessions
Session 1 – Trends in Fraud and Identity Theft: A Perfect Storm
Presented by: Jay Haapala, AARP Minnesota
Session 2 – AGING with Resilience, Mindfully
Presented by: Mariann Johnson, Bakken Center for Spirituality & Healing
Session 3 – Planetary Health – What Every Senior Needs to Know About Climate Change
Presented by: Teddie M. Potter, PhD, RN, FAAN, FNAP & Phillip Peterson, MD
12:00 p.m.
Lunch, booths, shopping & chat time
1:00 p.m.
Breakout Sessions (Repeat)
2:00 p.m.
Age-Friendly University Day concludes

Partner Sponsors: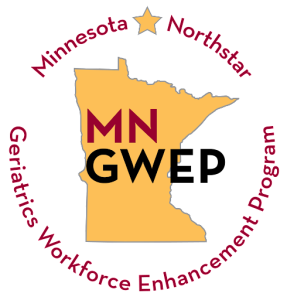 This conference is part of the Minnesota Northstar Geriatrics Workforce Enhancement Program (GWEP), which is supported by the Health Resources and Services Administration (HRSA) of the U.S. Department of Health and Human Services (HHS), award U1QHP33076. The contents are those of the author(s) and do not necessarily represent the official views of, nor an endorsement, by HRSA, HHS or the U.S. Government. Additional funding for the Minnesota Northstar GWEP is provided by a gracious gift from the Otto Bremer Trust. The Minnesota Northstar GWEP is also supported by the University of Minnesota Office of Academic Clinical Affairs.
Friend Sponsor:
AARP Minnesota

Age-Friendly Minnesota Council

Center for Healthy Aging and Innovation

Earl E. Bakken Center for Spirituality & Healing

Friends & Co.

Juniper

Masonic Cancer Center

Minnesota Alumni Market

Minnesota Northstar Geriatrics Workforce Enhancement Program (GWEP)

Normandale Center for Healing & Wholeness

One Stop Student Services

Osher Lifelong Learning Institute

Southeast Seniors

The Pillars of Prospect Park

University of Minnesota Alumni Association

University of Minnesota Extension Center for Family Development

University of Minnesota Foundation

University of Minnesota Retirees Association

University of Minnesota School of Dentistry

University of Minnesota Women's Club