June 20, 2022
8:30 a.m. – 2:00 p.m.
The event will take place at the McNamara Alumni Center, Minneapolis Campus (we are watching public health guidelines closely and if needed will host a virtual event).
Today, unlike any time in history, there are more older people than children in Minnesota. This demographic reality is here for the long term and will impact the core of work in all sectors. As they move into retirement, today's older adults and Baby Boom Generation carry with them lifetimes of experience in innovation, creativity, and leadership. At the University, we choose to purposefully engage them for the betterment of our University and communities.
To coalesce our work across campus, the University of Minnesota Twin Cities is the first institution for higher learning in Minnesota to enroll in the Global Network of Age-Friendly Universities. On June 20, 2022 we will be holding the first Age-Friendly University Day at McNamara Alumni Center. This event will bring around 150 retirees, older Minnesotans and lifelong learners together at the event. The day will be filled with a fireside chat as well as breakout sessions on finding purpose in life, age-friendly communities, and dementia.
8:30am
Registration & Continental Breakfast
9:00am
Welcome 
Rachel T.A. Croson, Ph.D., Executive Vice President & Provost
9:10
am
Age-Friendly University of Minnesota
Rajean Moone, Ph.D., Age-Friendly UMN Council
9:45
am
Fireside Chat 
Justice Alan Page & Richard Leider
10:30am
Break & Visit Exhibit Booths
11:00am
Breakout Sessions
Session 1 – Dementia Friends 
Moderated by: UMN Northstar Geriatrics Workforce Enhancement Program
Presented by: Colleen Fritsch, Volunteer Champion Coordinator, Dementia Friends & Priya Periakaruppan, Pharmacy Doctoral Candidate, University of Minnesota
Session 2 – AGING REIMAGINED: Living Fully with the End in Mind

Moderated by: UMN Earl E. Bakken Center for Spirituality and Healing
Presented by: Richard Leider, Senior Fellow, UMN Earl E. Bakken Center for Spirituality and Healing; Public Fellow, Notre Dame Institute of Advanced Study & Cathy Wurzer, MPR Morning Edition Host; Founder of the End in Mind Project
Session 3 – Age Friendly Communities
Moderated by: AARP Minnesota
Presented by: Cathy McLeer, State Director, AARP Minnesota & Jay Hapaala, Associate State Director, AARP Minnesota
12:00pm
Lunch, booths & chat time
1:00pm
Breakout Sessions (Repeat) 
2:00pm
End
This conference is part of the Minnesota Northstar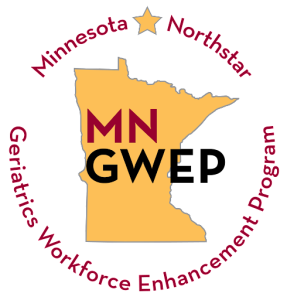 Geriatrics Workforce Enhancement Program (GWEP), which is supported by the Health Resources and ServicesAdministration (HRSA) of the U.S. Department of Health and Human Services (HHS). The contents are those of the author(s) and do not necessarily represent the official views of, nor an endorsement, by HRSA, HHS or the U.S. Government. Additional funding for the Minnesota Northstar GWEP is provided by a gracious gift from the Otto Bremer Trust. The Minnesota Northstar GWEP is also supported by the University of Minnesota Office of Academic Clinical Affairs.
University of Minnesota Center for Healthy Aging and Innovation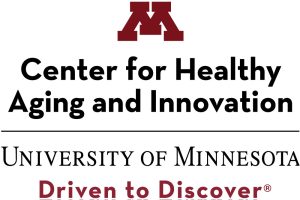 Center for Healthy Aging and Innovation
Earl E. Bakken Center for Spirituality & Healing
Osher Lifelong Learning Institute
AARP Minnesota
One Stop Student Services
Minnesota Northstar Geriatrics Workforce Enhancement Program
University of Minnesota Women's Club
University of Minnesota Alumni Association
University of Minnesota Retirees Association