Originally published in the May 2023 issue of the Notes on Antiracism, Justice, and Equity newsletter.
This month we celebrate Asian American, Native Hawaiian, and Pacific Islander (AANHPI) Heritage Month with a column from guest writer Charles Truong, our Internal Communications & Antiracism Strategist at SPH. I encourage you to connect with and engage our guest writers as much as you have with me. — Lauren Jones, DEI Director
Last week, I went to a Vietnamese restaurant in Dinkytown, a neighborhood in Minneapolis, with my partner, Ngoc. As Ngoc and I left, we overheard someone on the sidewalk say, "There are SO many Chinese people here." We turned to see a person, who appeared to be a white woman, with their friend, who appeared to be an Asian woman, nodding in agreement and sharing a look of disdain as they walked away.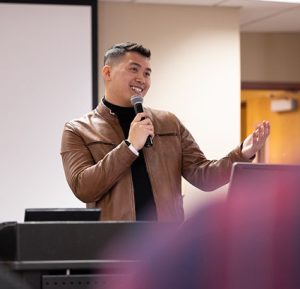 This moment made me reflect on how I interact with whiteness on a regular basis. Like many Asian people in the United States, I benefit from my proximity to whiteness or "white adjacency."  That can make it tempting to assimilate with white supremacist views at the expense of other people of color and despite evidence that those views can violently turn on us. We are not in the position to ignore our own racialized identities, nor should we ignore the laws and policies moving across the country that impact racist power.
A new Florida law will require Asian American and Pacific Islander (AAPI) history be taught in public schools. This law was passed around the same time as another state law that will limit public colleges from spending money on DEI efforts and will restrict how race and gender are taught in classrooms. "There are real intentional efforts to invisiblize or erase Black history," said Gregg Orton from the National Council of Asian Pacific Americans. "With Florida, it's hard to draw any other conclusion than they are actively trying to use the AAPI community as a wedge here."
This is far from the first time that Asian people have been scapegoated in conversations about higher education, even in recent history. Affirmative action, or the practice of considering a student's identity (namely race) in their admission process, is also being targeted as the U.S. Supreme Court decides on Students for Fair Admissions v. Harvard University. There is little evidence that repealing affirmative action results in an increase in college admissions for AANHPI people, especially given the lack of adequate data disaggregation. But removing such measures can consequently lead to missed job opportunities and the destruction of generational wealth for communities of color, namely Black and Hispanic people. Racial awareness is not the problem; it's how it is being weaponized.
In How to be an Antiracist, author Ibram Kendi notes that race-based distinctions and racism are not the same. Race conscious laws and policies can be antiracist if they are targeting inequities that persist between racial or ethnic groups. Measures like affirmative action can help uplift marginalized groups, whereas others can sow division. People of color have been historically underrepresented in higher education institutions, and white supremacy continues to pit Asian people against other communities of color. There is no room for us to lean into our white adjacency, especially when it is dependent upon the oppression of marginalized people.
Looking back at the person in Dinkytown, I wish I could ask them, "How much of yourself are you sacrificing by doubling down on your proximity to whiteness?" I can't turn off my racial awareness when it's convenient for me. I'm reminded of that everyday.
This AANHPI month, I am choosing to celebrate myself and my heritage. Some ways you can join me:
With you,
Charles Truong
Internal Communications & Antiracism Strategist
UMN School of Public Health
he/him/his
Sign up to receive the monthly Notes on Antiracism, Justice, and Equity newsletter.