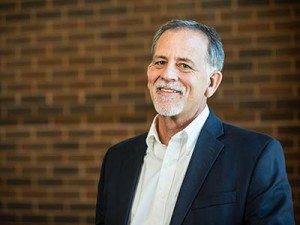 On a Monday in January, Dr. John Fankhauser was at the School of Public Health for a weeklong on-campus visit for his Executive Master of Healthcare Administration (E-MHA) degree. By Sunday, he was in Liberia helping Ebola survivors.
"I have always been drawn to health care for the poor and disenfranchised in a global context," says Fankhauser. "I feel everyone has the right to good health care."
In 2013, the 54 year old quit his job as Chief Medical Officer at Ventura County Medical Center in California to work with a missionary hospital and establish Liberia's first family medicine residency.
Within months, his clinic saw its first Ebola patient and Fankhauser found himself in the middle of West Africa's largest Ebola outbreak in history. "We had heard Ebola was going to hit, and thought maybe we'd see a few patients who were infected," says Fankhauser. So they set up a quarantine unit, but within a month it was full. A larger unit was built across the street and Fankhauser became the hospital administrator, managing staff and working around the clock to treat both locals and aid workers.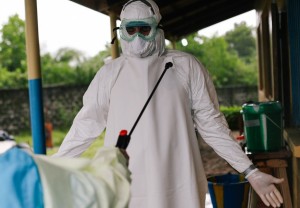 In total, more than 15,000 Ebola cases were confirmed during the epidemic in Liberia, and 2-in-5 people of those infected died. More than 800 health care workers were killed by the virus.
Working side-by-side with the first Americans who were infected, Fankhauser experienced Ebola symptoms — a fever, stomach aches — and was quarantined, but he wasn't infected. Eventually, he was evacuated. Back in the U.S., Fankhauser and his family stayed in an RV under quarantine for three weeks. "People were afraid to be around us," says Fankhauser, whose work was featured on NPR.
But that didn't keep him from returning to Liberia, where, in 2015, he started the country's first clinic for Ebola survivors. "Most of these survivors lost more than we can imagine — children, spouses, siblings — and now they need care that goes beyond just being cured," he says. "We're trying to do comprehensive, holistic care for a community of people who are just so wrecked in such a big way."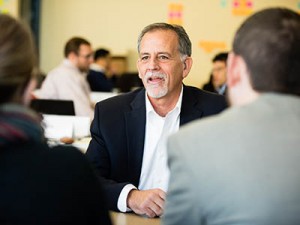 In 2016 he also enrolled in the E-MHA degree, which features a blend of online courses and 30 in-person days on campus over the 25-month program. Despite already having his MD, the E-MHA allows Fankhauser to transition from a clinician role to a hospital leader. "Leadership is natural in medicine, but the operational and business component are not intuitive at all. I've been doing this work, and now have the opportunity to learn from others who have a tremendous amount of  experience and expertise in hospital leadership," says Fankhauser. "I've found the program to be really universal across all sectors of health care."
Because the E-MHA allows for off-site learning, he can continue his global work. "This was the only program that allowed me to continue my international work, but to also work alongside other executives who are leaders in their field," says Fankhauser, who has run into other E-MHA graduates in other countries. "The program brings in a cross-cultural crowd and has significant global reach."