"What's important to me is to be an advocate for our patients and the people and organizations that deliver care, while also being a champion of efficient, effective health care."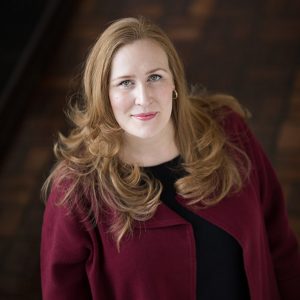 When Chelsea Trcka took on a new role North Memorial Health Hospital, a level-1 trauma center and safety net hospital in Minneapolis, she quickly recognized that there were essential skills she needed to do the best job possible leading approximately 60 RN case managers and social workers.
"I saw a colleague of mine who was really smart and talented and he had an MHA," Trcka says. "He helped me understand a little bit about what an MHA program is focused on, and I thought eureka! A Google search later, I found out that the University of Minnesota has a really highly regarded MHA program and I wasn't going to have to quit my job to do that full time."
She made a quick decision to apply for and enroll in the Master of Healthcare Administration (MHA) Executive Program.
"I was fortunate to come to the MHA program with a clinical background, but I had no real understanding of economics, finance, policy, or many other crucial areas of health care leadership," she says.
With a background in public health nursing, and having experienced health care delivery intimately as a caregiver to her mother who ultimately died of cancer, Trcka came to the School of Public Health with a goal of improving patient care management in a complex community environment. 
"My team has been able to raise awareness and get community support for certain populations with complex needs," says Trcka. "For example, there are undocumented patients who come to North Memorial; we are able to work with the county to figure out resources for people who aren't eligible for traditional Medical Assistance and we've gotten grant dollars for gap coverage as a safety net hospital."
Partnership building is critical to her team's success.
 "In my current role, we see the profound impacts of social determinants of health on the patients in the hospital," she says. "We do our best to link patients with community supports and resources and leverage the health care system, but the type of infrastructure many people need to thrive frequently just isn't there. Partnering with our communities and local governments to help create that infrastructure and awareness will continue to be vital work."
Trcka believes it's an uncertain time to be in health care — no one knows what the future holds. She sees a disconnect between payers and health care delivery teams — a problem she'd like to help solve.
"I'd like to believe that most payers are well intentioned, trying to help and influence those who deliver care to achieve the goals of the Triple Aim, [improving the patient care experience; improving the health of populations; and reducing the per capita cost of health care.]," says Trcka. "What we see, though, is increasing administrative burden when trying to provide the best care to patients. How can payers and providers align to achieve the best health outcomes while also being great stewards of our limited health care dollars?
"What's important to me is to be an advocate for our patients and the people and organizations that deliver care while also being a champion of efficient, effective health care."