"My role is to train people and give people the tools they need to influence policy themselves."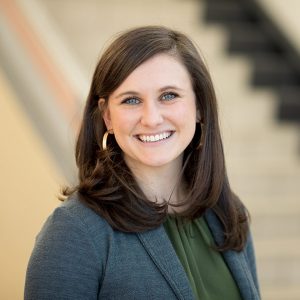 As a student at the University of Minnesota School of Public Health (SPH), Kristen Ackert didn't expect to go into tobacco-related public health work.
Now she is thrilled to find herself at a critical moment facing a unique public health challenge. 
"A major goal in public health is to achieve a tobacco-free generation, and we were feeling so close to reaching that goal," says Ackert."But the tobacco companies seem to be a few steps ahead of us. They're already coming up with new products. In Minnesota, we're starting to see an uptick in tobacco use again, and that's largely because of e-cigarettes."
Ackert and her colleagues, many of whom were also trained at SPH, have been relentless in improving  the health of Minnesotans by more strictly controlling the sale and use of tobacco and tobacco-derived products. A 2015 Institute of Medicine report showed that raising the legal purchasing age from 18 to 21 greatly reduces youth tobacco use. And a new international study with School of Public Health (SPH) researchers, including Professor David Jacobs, found that the younger people start smoking, the more likely they are to smoke daily as an adult — even into their 40s — and the harder it will be to quit.
With support from organizations, including the Association for Nonsmokers, 73 communities in Minnesota have now raised the legal age to 21 for buying tobacco products and continue the push to remove candy-flavored vaping products from convenience stores. In late December 2019, President Trump signed the legislation Tobacco 21, which raises the federal minimum age for sale of tobacco products from 18 to 21 years. Governor Walz followed suit in May 2020.
"We have a state-wide coalition that's worked tirelessly to make 21 years the legal age in Minnesota to align with federal law," says Ackert. "I'm thrilled that Governor Walz signed Tobacco 21 into law!"
Ackert knows this work is deeply personal for many. 
"I think parents and educators are really scared about the rise in tobacco use and vaping among young people  — there are a lot of implications for young people's physical and mental health," says Ackert. She also notes that her work is deeply rooted in principles of social justice and health equity. "There are communities of color who have been targeted by the tobacco industry for decades." 
A transplant to Minnesota, Ackert thinks coming to the U, and the Twin Cities, was a great decision. She has decided to settle in Minneapolis for the long-term — it's a city she loves for its access to both natural spaces and cultural amenities.
Ackert believes her training at SPH grounded her in the skills she's using to do her work effectively.  
"I was worried about coming to a school as big as the U, but I think the School of Public Health does a good job of really creating a space where you can make your education whatever you want and need it to be," says Ackert. She credits professors like Traci Toomey for helping her get ready to hit the ground running. "She was able to teach policy in a way that really made sense, and she creates relationships and opportunities for students to see policy work in action." 
Her position with Association for Nonsmokers-MN helps Ackert deepen her understanding about how to work with and for communities that she does not claim as her own.
"This job has been really wonderful at teaching me what I can do to help facilitate work in the community, and how I can work in the background a bit and create space where the people who are most affected by this issue have a platform," she says. "I can be behind the scenes and still make a huge impact. My role is to train people and give people the tools they need to influence policy themselves."
Note: Since this profile was written, Kristen has become Legislative Liaison at the Minnesota Department of Health.