COVID-19 (SARS-CoV-2) was the first recorded coronavirus pandemic, but it certainly won't be the last. Scientists and infectious disease specialists around the world worry about coronaviruses' increasing ability to evolve in their animal hosts and jump to humans. Most troubling is the threat of a new coronavirus that could be both highly transmissible and highly lethal.
This looming potential concerns School of Public Health Regents Professor Michael Osterholm. The COVID-19 pandemic was the third time in just 20 years that a coronavirus had emerged to cause a public health crisis — the SARS-CoV and MERS-CoV outbreaks in 2003 and 2012, respectively, were harbingers of things to come. 
Osterholm knows the path to create more effective vaccines in time for the next coronavirus pandemic is limited, so he rallied the team he leads at the Center for Infectious Disease Research and Policy (CIDRAP) to design a roadmap for developing new, long-lasting, easily deployable vaccines.
"Our CIDRAP team has had experience producing internationally recognized vaccine roadmaps for influenza, Ebola, Nipah virus, and Lassa fever," says Osterholm. "And our medical director, Dr. Kris Moore, led all those efforts."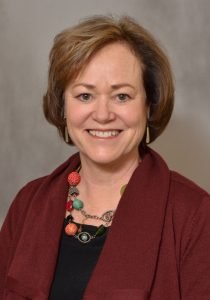 Moore, a School of Public Health (SPH) alum, was the logical choice to head up what Osterholm calls a "vaccine Manhattan Project" and he knew the dedicated and professional folks at CIDRAP could make this happen quickly and with global support. Moore's first job was to put together a specialized team.
"We needed a competent team to conduct the background research and to formulate the key gaps and barriers related to developing broadly protective coronavirus vaccines," says Moore. So she gathered a core group of people that included researcher Julie Ostrowsky; SPH alumni Tabitha Kazaglis and Richard Danila; PhD candidate Cory Anderson; and SPH assistant professor and former post-doc Angela Ulrich. This CIDRAP group shows why public health is considered a "team sport." 
"Although we all have an SPH connection, it was really the breadth our experience at CIDRAP that resulted in the multidisciplinary composition (medical doctor, epidemiologist, virologist, health policy expert, etc.) of the team that made all our work possible," says Ulrich.
A major endeavor
The team then began CIDRAP's single most ambitious endeavor: To create a plan that will guide all organizations in the world who research and develop vaccines to prevent coronavirus infections. The team engaged 50 of the world's top experts on coronavirus vaccine development, a testament to the vital importance of the project, and formed five working groups. 
In April 2022, The Rockefeller Foundation and the Bill and Melinda Gates Foundation announced that they were funding the project based on CIDRAP's previous experience and reputation for creating vaccine roadmaps. By October and after months of intense work, the team had a draft document that it posted online for a month-long public comment period to get broader stakeholder engagement. 
With a lot of behind-the-scenes help from other CIDRAP staff and the dedication of the international steering group, the team launched the Coronavirus Vaccines R&D Roadmap (CVR)  on February 21, 2023.
The CVR emphasizes that these broadly protective vaccines must be able to be manufactured, shipped, stored, and delivered early in a pandemic to all global regions, including remote areas and low- and middle-income countries. The CVR also has a plan for coordinated and sustained efforts to collect coronaviruses and to characterize the full range of virus reservoirs in wild and captive animals.
"I can't think of too many other organizations that can do what the CIDRAP team did so well and I truly am honored to have been a part of the CVR," says Danila, former Minnesota Department of Health deputy state epidemiologist who got his PhD at SPH and served as an academic advisor for scores of students. "I was impressed every single step of the way and I believe the University of Minnesota ethos played an important role — it was the product that was important, not the ego or reputation of any one player."
Osterholm credits Moore's leadership for creating the roadmap with such speed, support, and scientific rigor. Moore herself credits everyone else.
"We have a very supportive and cohesive work environment at CIDRAP," says Moore. "Everyone involved with the project was willing to step in whenever needed and complete whatever tasks needed to meet our timelines and deliverables. We are all so fortunate to have such dedicated and competent colleagues who value being part of a highly functional team. This was very much a team effort."
To learn more about the groundbreaking Coronavirus Vaccines R&D Roadmap, tune in on April 20 to a one-hour scientific webinar that is open to the public.