Dedicated to Changing Rural Health Care Delivery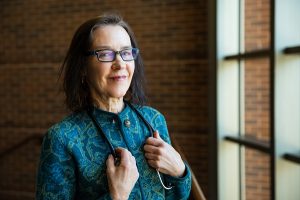 Dr. Julie Houle is Chief Medical Director of Emergency Services for Fairview Range Medical Center in rural northeast Minnesota. She directs all prehospital medical care, develops and approves protocols and quality in the emergency department, and supervises emergency physicians and advance practice providers. Dr. Houle also serves as the EMS Medical Director for fire departments in Hibbing and Virginia, Minnesota.
Why did you join the Executive MHA Program?

"Like many physicians I did not have any formal leadership training, and had some early spectacular fails! The Executive MHA faculty are thought-leaders working to improve health and they help me to see, and look for, solutions in the big picture. I intend to use my MHA degree in advocacy and rural policy development."
 On the Cohort Experience
"My cohort is a remarkable group from disparate international backgrounds and training. We represent sectors of modern health care including pharmaceuticals, medical devices, providers, research analytics, academics, and business. We have "spirited" discussions that have opened the world to me. A wonderful flow exists in my cohort and we support each other during work, travel, deadlines, crisis, etc."
Balance

"The biggest challenge is work-school-life balance. I run outdoors every day. Although I grew up in the Twin Cities, I have spent the last twenty years in rural Minnesota and I am now a child of the woods and waters."
Changing Rural Health Care Delivery

"We have untapped resources in prehospital services. Rural areas can benefit from care programs pioneered and used in large cities. For example, instead of limiting paramedics and EMTs to a transport service, we should include these highly trained providers in the continuum of care. By utilizing mobile integrated health and community paramedicine to respond to patients in their homes, we can prevent readmissions and unnecessary trips to the emergency department. As in all health care change and innovation, implementation requires integration of all stakeholders, and that is the opportunity of the Executive MHA education."