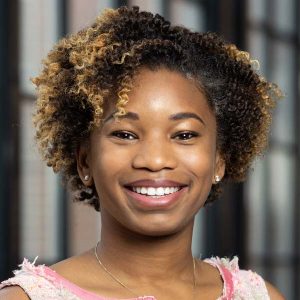 The Fesler-Lampert Chair in Aging Studies is a one-year appointment awarded to a faculty member to support research in aging that enhances and develops their own career in addition to the University's scholarly capacity in aging science. The Fesler-Lampert Chair in Aging Studies is made possible through an endowment from David and Elizabeth Fesler.
Shekinah Fashaw-Walters was selected as the 2022-2023 Fesler Lampert Chair in Aging Studies. Fashaw-Walters provided her comments below about being selected for this innovative opportunity.
What are your thoughts on being awarded the appointment?
I feel humbled, grateful, and honored to be named this year's Fesler-Lampert Chair and to be listed among so many influential past chairs.
Why is aging research important to you?
Aging research for me is about creating a better future for marginalized and minoritized older adults who have lived through historic forms, and continue to live through contemporary forms, of racism and oppression. My thought has always been, if I can make the latter part of their life better than the former part, then I am truly living out my purpose. Allowing older adults the opportunity to age with dignity and autonomy is what drives my research.
What work do you plan to pursue through the new appointment?
I am excited about this new appointment because I get to try a timely and innovative approach to my work. I am trained as a quantitative researcher but through this appointment I will gain new expertise in mixed-methods and qualitative research. Using the public health critical race praxis, I will be focusing my work on successful, predominately Black, home health providers to better understand the barriers and facilitators to high-quality care for their consumers.
What's the best way to describe your research and expertise in relation to the new appointment?
My expertise in relation to this new appointment represents a bridge. There are brilliant experts here at the University of Minnesota who focus on aging research, and there are those who focus on better understanding racism and leading an antiracism research agenda. I sit at the intersection of these two areas and see this appointment as the bridge to bring them together.