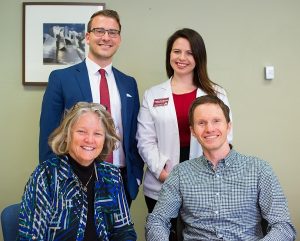 School of Public Health students are invited to join the new Institute for Healthcare Improvement Open School University of Minnesota Chapter (IHI UMN). The chapter connects interdisciplinary teams from university health professions programs with local health systems, providing an opportunity for hands-on real-world experience with quality improvement projects.
The chapter is housed in the Center for Health Interprofessional Programs (CHIP) and co-directed between faculty and students in the Medical School and Master of Healthcare Administration program. Quality improvement experience is not required as the chapter trains students via IHI quality improvement open school tools. Ideal student members will work well in teams, are conscientious, are systems thinkers, and are passionate about hands-on quality improvement in healthcare.
If interested in working on a future project, please like our Facebook page and email us at ihiumn@gmail.com.
Pictured: Faculty advisors Mary Ellen Wells (MHA program) and Dr. Nathaniel Scott (Medical School) and co-directors Henry Söderberg (MHA) and Angelina Omodt-Lopez (MD).