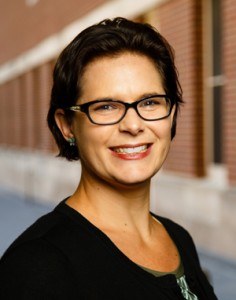 School of Public Health Associate Professor Katy Kozhimannil is the recipient of this year's Alice S. Hersh New Investigator award from AcademyHealth. AcademyHealth is the professional society for health policy and services research, and the award recognizes early-career researchers who are already making major contributions to the field and demonstrating exceptional promise.
Kozhimannil's is the director of research at the University of Minnesota Rural Health Research Center and focuses on analyzing the effects of policies and services specific to women, children, and families, particularly in maternity care.
"Childbirth is the most common and most costly reason for hospitalization in the U.S., and yet, health policy research has not historically focused on birth," says Kozhimannil.
Kozhimannil's research has informed policy change, including legislation in Minnesota authorizing Medicaid coverage for doulas, and influenced dialogue in the media, the academic community, and elsewhere around the importance of the health of mothers, infants, and families.
"This award shows that my professional society recognizes the value of conducting research that impacts people's lives and the importance of tenacity in investigating under-researched areas of health policy," says Kozhimannil.
SPH Professor Ira Moscovice nominated Kozhimannil for the award.
"Katy is a productive health services researcher whose commitment to realizing change in the lives of women and families is what distinguishes her from the many other hard-working researchers in our field," says Moscovice. "I expect her contributions will lead to a significant shift in the health and well-being of mothers and families across the U.S., and a narrowing of the racial disparities in birth outcomes that have existed for more than a century."
Kozhimannil believes the award will elevate her research and allow her to have greater influence on the field. In particular, she said it confers credibility on the work she does in communities that are often overlooked, including rural areas, communities of color, and low-income families.
Most of all, Kozhimannil thinks AcademyHealth's decision to honor her with the Hersh award makes a strong, attentive statement about how her field views women, families, and communities. "It shows that we – as health policy researchers – care about how women give birth and how babies are born."