Salmonella causes more than one million illnesses each year. While reducing rates of Salmonella infections in the United States is a Healthy People 2020 objective, rates of Salmonella infection have not changed over the past 20 years. In recent years, public disclosure policies for restaurant inspection results have received a lot of attention and the value of these policies has been hotly debated among policymakers, public health officials, consumers and the media.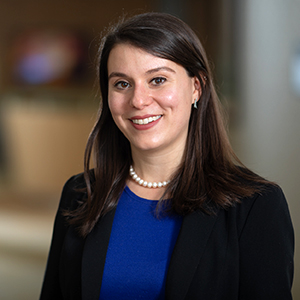 Melanie Firestone, a PhD student in the School of Public Health, assessed the public health impact of New York City's letter grade program by comparing the Salmonella infection rate before and after the program began. Her findings were recently published in the journal Emerging Infectious Diseases.
Firestone compared Salmonella infection rates in New York City to the rest of New York state before and after the implementation of letter grading. She found that:
while rates of Salmonella infection were higher in New York City (NYC) compared to the rest of the state before letter grading was implemented, the rates were comparable after the program began;
after implementation of letter grading, the rate of Salmonella infections decreased 5.3 percent per year in NYC versus the rest of the state, compared with the period before implementation.
"While the study only shows an association and not a definitive causal relationship, the findings suggest that public disclosure of restaurant inspection results at the point of service can drive a reduction in the burden of foodborne illness," says Firestone.
A previous study from the NYC Department of Health and Mental Hygiene demonstrated that the letter grade program improved sanitary conditions in restaurants. Firestone's study expands on the understanding of the impact of disclosure policies by relating policy implementation to population health. Developing methods to use surveillance data to assess food safety policies provides important tools to guide public health investments.
"Implementing of a letter grade program is a relatively inexpensive tool that has the potential to drive reductions in the incidence of foodborne illness," says Firestone. "State and local health departments should consider adopting similar programs as a means of improving public health."